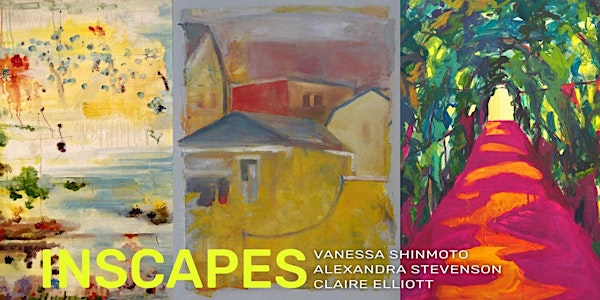 Inscapes: A Conversation with the Artists Part Deux
Conversation with painters Claire Elliott, Vanessa Shinmoto, and Alexandra Stevenson. Group exhibit "Inscapes" at Eat Paint Studio, Chicago.
About this event
"Inscapes," a group painting exhibition, combines observed and sensory experience to describe a world that is both confined and expansive. Closing soon! Catch the show at Eat Paint Studio, 5036 N Lincoln Ave, Chicago, through April 17, 2021. Gallery hours are Friday and Saturday, noon to 5pm - come see the show!
"Inscapes," features paintings by three artists, Claire Elliott, Vanessa Shinmoto, and Alexandra Stevenson. These paintings navigate landscapes from the inside out, blurring the boundaries between what we perceive and what we imagine. Each of the artists in this group exhibition find connections to nature as a spiritual and regenerative force while improvising on the duality of their inner and outer experiences.
A second Zoom artist talk will take place on Saturday, April 10, from 3 – 4PM CST. Discussion moderated by curator and artist, Emily Rapport.
You are encouraged to ask questions of the artists in the chat - about their work, process, how to stay inspired, etc. After the talk, we'll invite you to ask your question! We look forward to seeing you.
Note: We will record this for our archives and later viewing if you miss the event.
Learn more about the show and artists here: https://eatpaintstudio.com/inscapes-elliott-shinmoto-stevenson/