Event Information
Location
University of the Sciences in Philadelphia
723 South 43rd Street
McNeil Science Technology Center
Philadelphia, PA 19104
Explore the life-cycle of Life Sciences Innovation from Licensing and Technology Transfer to Pricing, Funding and Exits
About this event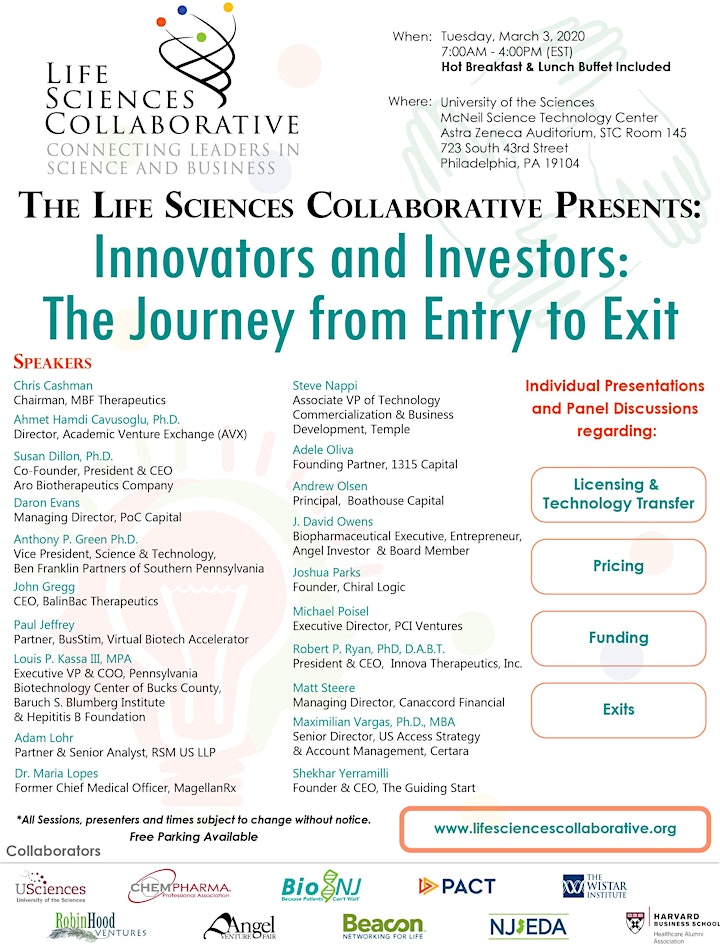 Philadelphia is consistently ranked in the top 10 life sciences clusters in the country, due to our proximity to Big Pharma, excellent research institutions, and robust talent pool. Venture capital funding of Philly-based life sciences companies, while still trailing Boston, San Francisco, San Diego, and others, has grown significantly in the last several years. With our maturing eco-system, now is a great time to start or grow a life sciences company in the region.
However, we realize that emerging life science companies in our region face a lot of challenges. These challenges include navigating the balance between building a business and optimizing scientific progress, sourcing and working with investors, and entering into commercialization.
Come join the Life Sciences Collaborative for our 7th annual conference to hear from both innovators and investors on their journeys to building sustainable and profitable life sciences businesses.
During the program you will hear from experienced founders who will share stories from the trenches on how they started and seeded their business, what they experienced during growth and how they took their company public or exited. We will also hear how investors recognize and decide on when and what to invest in, and who they want to engage with as partners.
The Life Sciences Collaborative would like for you to engage and learn from this year's event about the challenges and successes of others, while networking with fellow life science colleagues. Whether your life science cycle is set, or you need to redefine how you prepare your business for the future, this event's objective is for you to learn, share and develop relationships with others within this ever-evolving life sciences landscape.
Date and time
Location
University of the Sciences in Philadelphia
723 South 43rd Street
McNeil Science Technology Center
Philadelphia, PA 19104