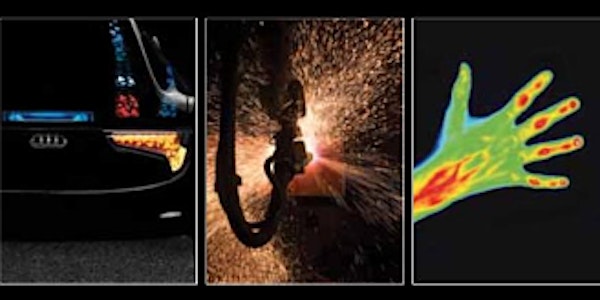 Innovative Photonics in Wales
This event will demonstrate the business benefits of photonics technologies by case studies with industrial applications and innovation
When and where
Location
The OpTIC Centre, Glyndwr University St Asaph Business Park Saint Asaph LL17 0JD United Kingdom
About this event
Photonics, which includes areas like optics, optoelectronics, photovoltaics, laser technology and various application areas, is an exciting and rapidly changing market, where new products, technologies, and applications are continuously being introduced.
The Welsh Optoelectronics Forum is working with CPE, SPARC II and ASTUTE 2020 with support from the Knowledge Transfer Network to bring together this event which will showcase real world applications of photonics and where technologies are impacting businesses today.
There will be plenty of networking opportunities throughout the day to network followed by a round table discussion on real world applications of photonics and how they impacting business today.
Overview of Agenda
09:00 Registration, Refreshments and Networking
09:30 Welcome Introduction and Purpose of event
9:45 Keynote Case Study of Industrial Collaboration
Qioptiq (Excelitas), Andy Hurst
10:10 Session 1 – Collaborative support for Industry
CPE (Centre for Photonics Expertise), Caroline Gray, Glyndwr University
ASTUTE 2020, Harry Alexopoulos, Project Officer, ASTUTE 2020
SPARC II project (Photovoltaic research), Daniel Lamb, Swansea University
Panel session Q and A
11:00 Break - Tea/Coffee
11:20 SPARC II - Keynote Case Study of Industrial Collaboration
IQE, Andy Johnson
11:45 Session 2 – SME Case studies
CPE case studies - Grafmarine, Martin Leigh, Steambio, Huw Parry, Bright Futures Partnership/Enetrees, Mark Pedley, Global Lasers, Chris Evered
ASTUTE 2020 - Enabling greater levels of business innovation. featuring video case studies from TWI Ltd.& British Rototherm Company Ltd. Dr Kenny Low, Project Officer, ASTUTE 2020
Panel session Q and A
12:45 Lunch and Exhibition / Networking opportunity
14:00 Keynote Case Study of Industrial Collaboration and Challenges
BAE Systems, Dave Parker
14:30 Funding landscape and opportunities
Welsh Government, Ann Sudder
Knowledge Transfer Network, Louise Jones
15:15 World café roundtable sessions, coffee available
split into three groupings of CPE/ASTUTE 2020/SPARC IIOutcome: ideas for future collaborations, potential other partners/sectors to bring into projects, how to promote and expand projects beyond current funding
16:15 Close, further networking and optional tour of OpTIC