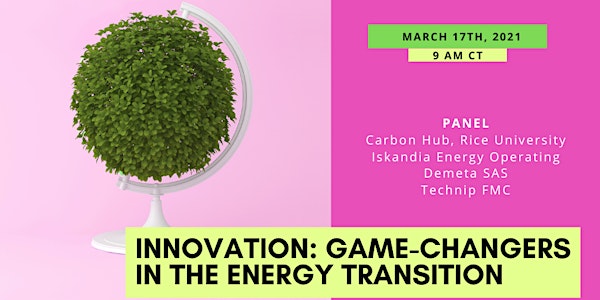 Innovation: Game-changers in the energy transition
Green innovative technologies with Rice University, Iskandia Energy Operating and Demeta
About this event
Please click the link below to join the webinar:
https://us02web.zoom.us/j/81081822930
Passcode: 701462
President Joe Biden has re-entered the U.S. into the Paris Climate Agreement, the global pact forged five years ago among nearly 200 nations to avoid the worst impacts of climate change.While governments have the primary responsibility to prioritize and implement approaches to meet the SDGs, the private sector and civil society will play critical roles in the implementation of national plans.The global challenge is to ensure access to affordable, reliable and sustainable energy while moving towards a low-emissions future. Even with a transformation of the energy system, the energy industry will play a significant role and will be a key contributor to achieve the SDGs.
How can the energy industry from Operator, Public/Private Partnerships and Start-up contribute to the sustainable development goals?
The session will be followed by a 30min Q&A session.
Speakers:
Moderator:
Laurent Pagnon, VP Digital External Technology, Technip FMC
Webinar hosted in partnership with Evolen.