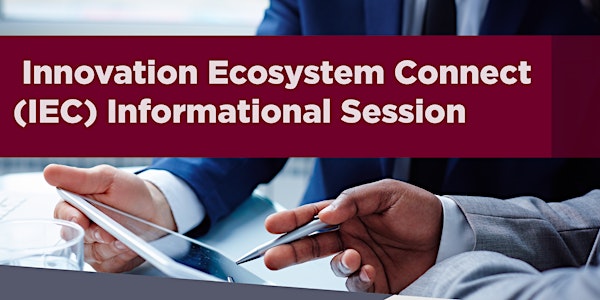 Innovation Ecosystem Connect (IEC) Informational Session
Find out how IEC can connect you to the innovation ecosystem
About this event
Innovation Ecosystem Connect (IEC), funded in part through a Lab-to-Market Inclusive Innovation Ecosystem award and an award under the DOE OTT EPIC program, is a new online platform that connects you to researchers, businesses, and universities for growth and development.
IEC can connect you to the resources you need to define your innovation, receive technical development support, and find opportunities for expansion, via a smart connection system based on identified needs and capabilities.
In this info session, you will learn about the project, find out how IEC works, and see how you can sign up for the platform.
During this session, we will cover:
A peak under the hood of IEC and how the system works
A walkthrough of getting started with IEC
Resources that can help you create a profile that stands out
Q&A with the NM CERG team
Online Webinar
Join Here!
https://nmsu.zoom.us/j/91227114688