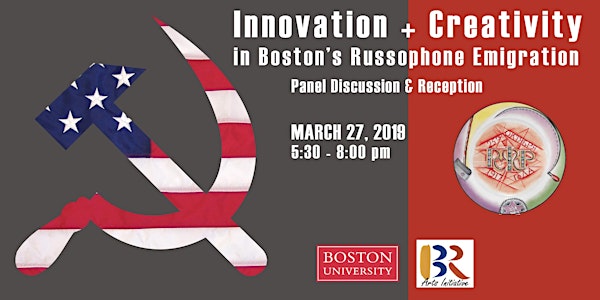 Innovation and Creativity in Boston's Russophone Emigration: panel discussi...
Event Information
Location
The Yard - Back Bay Coworking Office Space Boston
120 Saint James Avenue, 6th floor
Boston, MA 02116
Description
Join us for a panel discussion exploring the intersection of artistic (visual art, literature, music, peformance, etc) creativity and scientific/medical/technological innovation and entrepreneurship among emigrants from the former Soviet Union. Three members of the Boston Russophone emigration in various professional spheres will share their stories and perspectives, with the audience encouraged to contribute and share their personal experiences and insights on the role of the arts and creative culture in science and entrepreneurship as well.
5:30 Registration, networking.
6:00 Speaker intros, Panel Discussion
6:45 Audience contributions, Q&A
7:15 Reception
Speaker bios:
SLAVA GAUFBERG is a Emergency Medicine doctor and leader, a singer/songwriter, as well as avid outdoor adventurer. Hailing originally from Poltava, Ukraine, Gaufberg was an innovative obstetrician-gynecologist and anaesthesiologist already in the USSR. After emigrating from Moscow to the US in 1982, Slava focused on the then emerging specialty of Emergency Medicine, which he has practiced and taught at Harvard Since 1991, directing an ER residency program. Slava writes songs and poetry in Russian and English, and performs primarily his own compositions as well as evenings dedicated to the great icons of Russian Bards, many of whom he knew personally, such as Galich, Vysotsky, Okudzhava, Kukin, and others.
ANNA KATSNELSON, is an art historian and educator whose research focuses on 20th century Russian and then Soviet visual culture and more broadly on the ways in which politics, ideology, and governments determine artistic output in the modern era. Anna arrived in the US as a graduate student after many years in Israel, and earned her PhD at Harvard University. She has taught there as well as at Tufts, Hewbre University, Princeton, and Boston University.
VLADIMIR TORCHILIN is a leading biochemist and pharmacologist as well as art collector and author of numerous books of creative fiction, non-fiction and poetry. Born in Moscow, he began his career in the Soviet Union, receiving the Lenin Prize in Science and Technology (the highest prize in the USSR) before emigrating to the US. He is a professor at Northeastern University, where he directs the Center for Pharmaceutical Biotechnology and Nanomedicine. He and his wife have an extensive art collection focused primarily on the works of artists from the Russian empire and Soviet Union.
Moderator:
ANNA WINESTEIN is an art historian and arts entrepreneur based in Boston, who also happens to be a reformed economist. Born in St. Petersburg, Russia in a science and technology family that also had a multi-generational art collection, she grew up in Brookline, MA. She is the Founding Executive Director of Ballets Russes Arts Initiative, and has published widely on art and culture of the Russian and Soviet empires. She has curated numerous international exhibitions and is a member of the FabLab at CIC Boston.
The event is organized by Ballets Russes Arts Initiative in partnership with the Russian Program in the Boston University Department of World Languages and Literatures.
Date and time
Location
The Yard - Back Bay Coworking Office Space Boston
120 Saint James Avenue, 6th floor
Boston, MA 02116