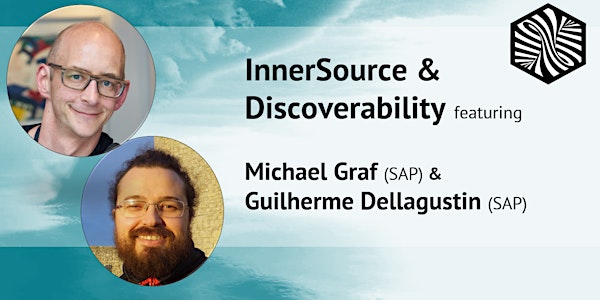 InnerSource Commons Community Call - InnerSource & Discoverability
Join us for an InnerSource Commons Community Call where we will discuss the topic of InnerSource & Discoverability
About this event
SAP announced the release of their InnerSource Project Portal at our Dec 2020 Summit. Since then, it has been called out by many of our community as a great starting point in their InnerSource efforts. For our July Community Call, Michael Graf and Guilherme Delagustin from SAP will join us once again to talk about InnerSource project discoverability and how to best use the portal.
After the talks we will be facilitating a discussion on the topic that will be held under the Chatham House Rule. Join us to discuss challenges and learn about best practices in this space.
AGENDA
Please note that doors will open 15 minutes before the session starts, and we encourage you to join us for some virtual hallway chat.
[05 mins] Welcome
[20 mins] InnerSource & Discoverability
Discoverability is an important aspect for InnerSource projects. It fosters contributions and helps in spreading an openness culture. This topic is addressed by a few InnerSource patterns, among them, the InnerSource Portal, which requires a technical realization. In this talk, Michael and Guilherme will present how SAP executed this pattern and how you can reuse SAP's solution to execute it too (spoiler alert: it is Open Source).
[30 mins] Community Discussion: This part of the community call will be held under the Chatham House Rule. Participants will be free to use the information received, but neither the identity nor the affiliation of the speaker(s), nor that of any other participant, may be revealed. This part of the event will not be recorded.
[5 mins] Wrap-up
We typically also leave some space after the formal end of the event for some more informal chat. Please feel free to join us.
SPEAKER BIOS
Guilherme Dellagustin
Guilherme is a multipurpose developer at SAP, Globalization Services, passionate about everything in software, especially in InnerSource and Open Source. Find him on GitHub (dellagustin and dellagustin-sap), Twitter (@dellagustindev) and LinkedIn (dellagustin).
Michael Graf
Michael is software developer at SAP and Open Source enthusiast. He loves evangelizing technology, sharing knowledge, and collaborating with the community.