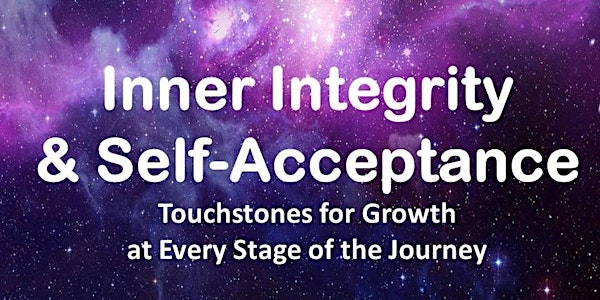 Inner Integrity & Self-Acceptance - Touchstones for Growth at Every Stage...
Location
Flowering Heart Center or Anywhere Online
300 Feather Tree Drive
Clearwater, FL 33765
Description
Online Anytime that is Convenient for You

With Rev Dr Michael Milner & Rev Suzanne Champlin

Grace is Divine help that is freely given. It is the most important ingredient for us to flower on the spiritual path. We cannot liberate ourselves. There is no technique or spiritual practice that can do it. Only Grace can awaken our hearts to the Divine Within and make them flower with unconditional love, compassion & bliss. Only Grace can guide us on our own unique path and complete our process of transformation.

However, there are certainly some things we can do to cooperate with Grace. We can cultivate Inner-Integrity and Self-Acceptance. These two principles are important at every stage of the spiritual journey, and we need to keep returning to them as touchstones for continued spiritual growth.

Inner-Integrity is being honest with ourselves (and with the Divine) about our true condition. It means facing the naked truth about our shortcomings, our self-centeredness, and our true motives for doing things. It involves ever increasing awareness of our resistance to what-is, our craving and attachment, the unconscious patterns and programs that run our lives, the games our egos play, our emotional charges and triggers, This is the beginning of true freedom. When we are honest about our true condition and ask for help, Grace comes to our assistance and transformation begins. As long as we lie to ourselves (and to the Divine), we hinder the work of Grace. This is true at every level of the spiritual journey. At every stage, deeper awareness of oneself and inner integrity are required for continued growth. When we get stuck or hit a plateau, a healthy dose of inner integrity will always get things moving again. That's why we need to cultivate Inner Integrity, and keep returning to it throughout the journey.

Inner Integrity may be our touchstone, but BOTH Inner & Outer Integrity are important: The Outer World is a reflection of the Inner World. We cannot claim to have full integrity within, when it is not reflected in our outer life. We are people of full integrity only when our outer lives reflect our inner truth, our principles and convictions. This is oneness in the realm of Integrity, and inner integrity calls for us to acknowledge our lack of outer integrity.

Inner Integrity also invites us to realize and acknowledge our bright qualities, the ones we find hard to accept because of low self-esteem or fear. That includes our strengths, virtues, gifts and abilities, our inner Divinity and our Awakened True Nature, our essential oneness with All-That-Is. Full integrity calls us to stop hiding from the truth that we are Sovereign, Sentient, Divine Beings and to let that truth shine in our outer lives to help uplift the collective consciousness.

Self-Acceptance is the twin virtue of Inner-Integrity. It means to accept oneself exactly as one is, with all our strengths and shortcomings, without judgement, denial, resistance or craving to be different than we are. It is embracing ourselves, all of ourselves, the bright and the dim parts, with unconditional love, knowing that we are perfect exactly as we are at our current level of consciousness! That's when we actually begin to transform. We discover Self-Acceptance when we experience the unconditional love the Divine has for us. That love is contagious, and we begin to love and accept ourselves unconditionally. As we deepen in self-acceptance we spontaneously begin to accept others exactly as they are. When we accept others in this way, we hold space for them to experience self-acceptance and they also begin to be transformed. This is what Christ meant when he said "Love one another as you love yourself."

JOIN US!

In this course…

Through inspired teachings, informal questions and answers, and powerful guided processes and meditations, we will catalyze, nourish and explore the realms of inner & outer integrity.

We will discover the truth about ourselves, our good and not-so-good qualities, and the brilliant Divine nature of our Higher Sacred Selves.

Through Self-Acceptance and Invocation we will open the door to activate the Divine Within, allowing our Hearts to Flower and unleash a massive outpouring of Grace to transform us.
TIME: July 8, 1-6PM
OR Anytime Online

LOCATION:
Flowering Heart Center
300 Feather Tree Drive
Clearwater, FL 33765
OR Anywhere Online

All Participants will receive the link to watch the course online anytime that is convenient and to watch it over again as many times as they want.

COST: $49
Please, Register in Advance

IN THE MEANTIME, visit: http://floweringheart.org

AND be sure to take the FREE Blessing Giver Initiation Course: http://floweringheart.org/initiation.htm
Follow us on Twitter
Follow @Flowering_Heart