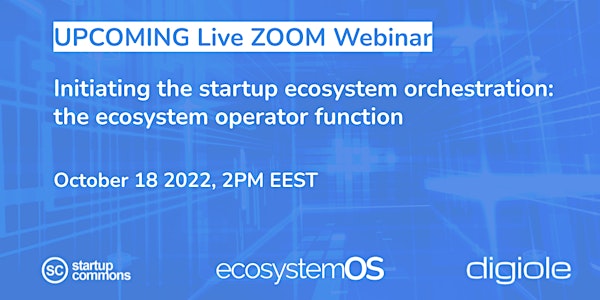 Initiating the startup ecosystem orchestration: the ecosystem operator role
Join us to learn from the experience of SDEC, our partner in Sarawak, Malaysia, in setting up the startup ecosystem operator function.
About this event
We are going to take you behind the scenes into one of our customer stories so you can see how things work in practice when those responsible of developing the startup ecosystem are committed to initiate the journey towards an orchestrated startup ecosystem that contributes to accelerate economic growth.
For our guest speakers from Sarawak Digital Economy Corporation (SDEC), Khairool Adzlelan Aman, Manager, Ecosystem Development and Digital Innovation, and Elizabeth Linli Charles, Executive, Innovation and Entrepreneurship, it is the set up of the ecosystem operator function that was the first step towards a more effective coordination in the Sarawak startup ecosystem.
In this webinar, Khairool and Elizabeth will take us behind the scenes into their own ecosystem operator journey to show exactly:
the beginning of the journey
the alignment with the different ecosystem actors
long term and data-driven development perspective
the current state
And more
In the end of the session, there will be Q&A and experiences sharing. Don't miss it out and book your place!
Feel free to contact us (info@startupcommons.org) in advance with your questions/suggestions.