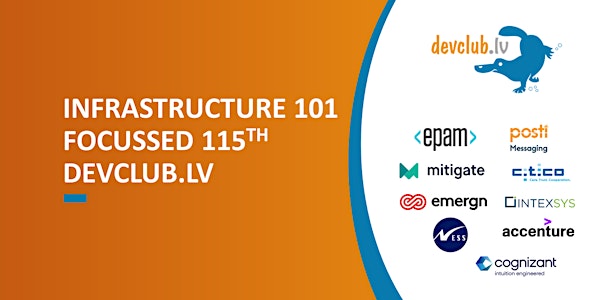 Infrastructure 101 focused 115th DevClub.lv
.
Date and time
Starts on Thursday, February 23 · 6:30pm EET
Location
Cognizant Mūkusalas iela 42D LV-1004 Riga Latvia
About this event
Hi!
This month we are focusing on Infrastructure and its management. We are also visiting a new place - Cognizant office, so don't miss it!
You are welcome to "Infrastructure 101" focused 115th DevClub.lv event on Thursday – 23th Febuary 18:30 at Cognizant office - Mūkusalas street 42D, Riga, LV-1004, 4th floor
Unfortunately, Covid-19 is spreading therefore we ask you – friends, please, be nice and responsible and if you have any Covid-19 symptoms or symptoms of any other contagious illness, please be cautious and take all needed safety measures and instead of attending the event, please, watch this time recording of the event published afterward.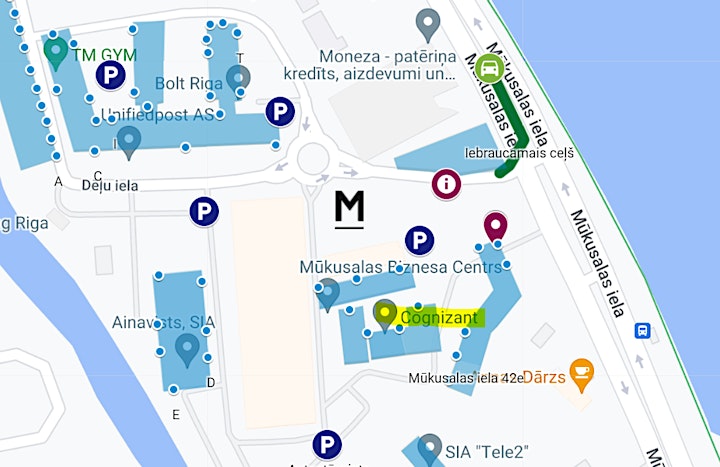 Agenda for "Infrastructure 101" focused 115th DevClub.lv
Ebrahim Ramadan from Accenture will give a talk "GitOpsifying Cloud Infra with Crossplane, ArgoCD"
This is a is a technical talk that covers how to use Git, Crossplane, and ArgoCD for cloud infrastructure management. It will explain how it improves collaboration, version control, auditing, and scaling while reducing human errors. The speaker will demonstrate how to use this approach for managing multi-cloud deployments with a unified interface. Aimed at IT professionals, DevOps engineers, and anyone interested in cloud infrastructure management.
(Language – English)
Tags: GitOps, Crossplane, ArgoCD, CloudInfrastructure, MultiCloudDeployments, UnifiedInterface, CloudManagement, InfrastructureAsCode, Automation, CloudNative, Kubernetes
Ebrahim Ramadan is a Cloud Architect with 13 years of experience in the software industry, specializing in AWS and Kubernetes, with CKA, CKAD, KCNA, and SAA certifications. Strong in leading and managing cross-functional teams, and implementing and maintaining CI/CD pipelines. Seeking new opportunities to improve skills and knowledge. Enjoys watching movies and reading books in his free time.
Antons Kranga from EPAM Systems will speak about "Managing IaC deployments with hubctl"
Hubctl is an open-source tool for DevOps engineers to manage their deployments more efficiently. Sometimes engineers need to use more than one IaC technology to deploy applications with mutliple components that use several IaC technologies. That integration is arguably the most fragile part of the whole deployment. Hubctl helps to manage these integrations to let the Engineer focus on writing components rather than gluing them together. In this session, we will talk about what we do a bit differently, what techniques work for us what don't.
(Language - English)
Tags: Kubernetes, Cloud, IaC, automation
Antons is a 20+ years experienced engineer, open-source maintainer and DevOps advocate. He helps to the clients to deploy their infrastructure more efficiently.
Goran Gjorgievski from Posti will give a talk "Infrastructure and AWS at scale: The story of Posti"
It is a talk regarding how AWS is utilized to manage around 200 services, 4+ million users and 20+ teams in Posti Group. The speaker will demonstrate how Posti is maintaining and controlling the 'Infrastructure side' of a variety of different cross-functional teams, with a unified approach. The presentation will focus on the approach, tools and tech with some concrete examples. It should be fairly comprehendible even for non-hands on IT professionals, however aimed at Software engineers, Infra and DevOps engineers and IT leaders.
(Language – English)
Tags: Infra, Software, Cloudformation, Aws
Goran Gjorgievski is Head of Software development, with 10 years experience in Software Engineering. Originally coming from North Macedonia, currently living in Finland, he has a Masters in Information technology and is working at Posti Group, one of the biggest logistics companies in the Nordics, while also being active as Technology and leadership consultant.
Throughout his career, tech-wise Goran has had started his software journey from jQuery, Laravel, Hyper-V, Angular, Java, etc. only to end up been focusing mainly on: Javascript, Typescript, React, GraphQL, AWS, Python.
His most recent main focus is on building, leading and scaling single and multi-team organisations and software development teams. Focused on: architecture, budgeting, organisation and management, development practices, etc.
Currently he is managing around 22 teams and responsible for around 80 software engineers.
Videos from previous events you can find at our homepage and our YouTube channel. The best way to be informed about new videos is to Subscribe to our YouTube channel.
Cognizant engineers' modern businesses. We help our clients modernize technology, reimagine processes and transform experiences so they can stay ahead in our fast-changing world. Together, we're improving everyday life. We are currently looking for people to join our teams in such roles:
– Quality Engineer (Automation)
– Senior Snowflake Data Engineer
Postiis a modern delivery and fulfillment company. Our HQ is in Helsinki, Finland. Software development center (Posti Messaging Latvia) established in Riga in 2010 to develop group products.
Mitigate is a team of passionate custom software developers who prefer developer oriented environment. Mitigate specialise in tailored made software for medium and large enterprises. Our team is very strong at developing Backend, Front-end solutions, Mobile applications and UX&UI design.
C.T.Co employs over 650 employees, and this number keeps growing each year! We are always in search for experienced professionals, as well as young talents who are ready to grow their expertise and join our friendly company! 
At the moment we are actively looking for DevOps Engineers and .NET Developers. Take your career to the next level! Join CTCo
Emergn is a global digital business services firm on a mission to improve the way people and companies work. Forever. Every day, across the world, our teams are pioneering faster, better ways to bring our clients' most exciting ideas to life. Want to join us? 
INTEXSYS is a large-scale E-Commerce developer supporting online sales of over $500M/year. INTEXSYS works on the USA market as well as develops top online stores locally. With over 80 employees in Riga, INTEXSYS is growing and always has challenging open positions.
Top picks for today: 
– Senior/Middle Front-end Engineer (React)
– Senior Software Engineer (PHP) 
We promise – it will never be boring!
Ness Digital Engineering is a strategic partner of AWS, Azure, Confluent and Snowflake. Within a team in Riga, we have a deep expertise in Cloud, Data & Analytics, UI/UX and ML. We are looking for experienced professionals who thrive in an open-ended environment and take ownership in delivering quality results.
Accenture Baltics
Ever get bored with system administrator tasks? Switch to DevOps! DevOps teams have end-to-end responsibility and use a wide range of technologies. Our Fortune 100 clients are agile, ambitious, and future-oriented  
Thanks to our sponsors for supporting DevClub.lv events: