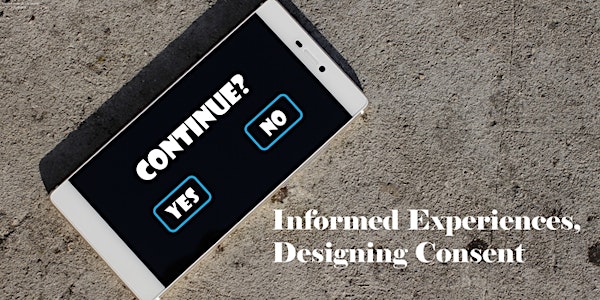 Informed Experiences, Designing Consent
When and where
Location
Illinois Tech Downtown Campus 565 W Adams St Chicago, IL 60661
Description
Designs, whether implicitly or explicitly, cite core values that drive their development and marketing. Efficiency and profit are two common principles that push design.
Informed Experiences, Designing Consent offers a space to consider centering consent as a core value of design. We invite creative individuals, researchers, ethicists, and designers, especially those with burning questions, critical theories, and insightful projects about design practices and consent, to join us for this one-day event on April 6, 2019 at Illinois Tech's Downtown Campus (565 W. Adams). While we are talking about design and consent, we welcome people working on theoretical, reflective, and reception/audience perspectives of these concepts.
This symposium will use a Learn, Make, Reflect Model to interrogate the intersections of consent and design of interactive media and technologies. Here, we use panels, workshops, and discussion for attendees to prototype designs that center on consent and iterate on this process. We will provide simple prototyping materials for groups to collaborate on exploring the intersections of theory and practice in our maker-sessions.
Informed Experiences, Designing Consent is hosted by the Illinois Institute of Technology Center for the Study of Ethics in the Professions and the HASTAC Scholars fellowship program. It is organized by Michael Anthony DeAnda, Elisabeth Hildt, Kelly Laas, and Leilasadat Mirghaderi with generous sponsorship from the Coleman Foundation.
Location
The event will be held at:
Illinois Tech Downtown Campus
565 W Adams
Chicago, IL 60661
This building is accessible for people with dissabilities: entrances to the building include both revolving and push to open doors, elevators on the east side of the building serve all floors, and the door frames are wide enough to allow wheelchairs through.
Schedule
8:30 AM - 9:00 AM | Registration
9:00 AM - 9:20 AM | Opening Notes
Elisabeth Hildt, Illinois Institute of Technology
Michael Anthony DeAnda, Illinois Institute of Technology
9:20 AM - 10:35 AM | Panel 1
"Changing Perspectives: Toward an understanding of transparency and consent in the virtual domain"
John Cain, Illinois Institute of Technology
Christine Miller, Illinois Institute of Technology
Ruth Schmidt, Illinois Institute of Technology
"This is Not Consent: Genre Recognition, Communication, and Critical Consent in ARGs"
Daniel Lipson, Independant Scholar; Making Right Choices
"How to design meaningful consent through a mental health chatbot?"
Camille Vezy, University of Montreal
"Designing Passivity"
Peter McDonald, DePaul University
"Robots as Subjects of Research and Development"
Monika Sziron, Illinois Institute of Technology
"phonelovesyoutoo: smartphones, intimacy, and surveillance"
Kate Hollenbach, DePaul University
10:35 AM - 10:45 AM | Break
10:45 AM - 12 PM | Design Session 1
12 PM - 1:20 PM | Reflection & Lunch
1:20 PM - 2:35 PM | Panel 2
"Consent in AI-coaches"
Cansu Canca, Director at AI Ethics Lab
"Consent as Disruption: the Social Contract in the Classroom and the Crowd"
Spencer Keralis, Digital Frontiers; University of North Texas
"Online Monetization: Eat and be Eaten"
Timothy Ayodele, Northrop Grumman
"Digital Technologies of Consent and Control"
Josef Nguyen, The University of Texas at Dallas
"From Prototype to Market"
Nik Rokop, IIT
2:35 PM - 2:45 PM | Break
2:45 PM - 4 PM | Design Session 2
4 PM - 5 PM | Reflection
"Learn, Make, Reflect" Model
This model utilizes three components to combine theory and embodied practice in learning as a community.
Learn: a selected panel speaks on a given topic. These presentations provide frameworks and considerations from varied perspectives.
Make: maker/design breakout sessions that engage the given topic. From the frameworks proposed in presentations, all attendees collaborate on hands-on practices of designing and prototyping something drawing from the frameworks and offerings of the panel.
Reflect: after the breakout sessions, all attendees return to discuss their maker experiences. Here, we offer a space for generative forms of knowledge production in which all attendees contribute from their perspectives.
Further Questions
More information can be found at ethics.iit.edu/ConsentDesign
If you have any questions or concerns, please contact Michael DeAnda at mdeanda@hawk.iit.edu