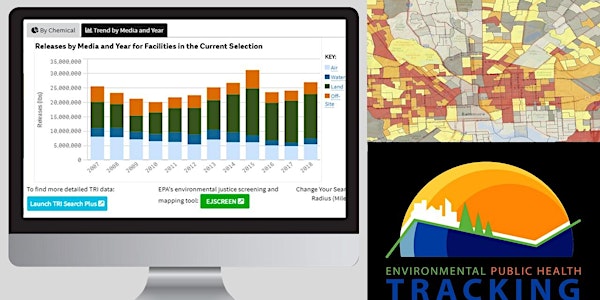 Information Systems to Advance Environmental Justice
WEBINAR: INFORMATION SYSTEMS TO ADVANCE ENVIRONMENTAL JUSTICE
About this event
The U.S. Environmental Protection Agency is continuing its training webinar series to build the capacity of state environmental justice practitioners. The first webinar in 2020 on "Information Systems to Advance Environmental Justice" can be accessed at:
TO GET AUDIO, YOU MUST ALSO CALL IN AT 833-603-8030 (ID: 8875823)
Advancing environmental justice requires refined information on environmental emissions and exposures, health effects, and social determinants of health. This is in addition to screening level information available through EJ mapping tools from California and other states as well as EPA. For this reason, we are providing three examples of cutting-edge data systems on environment and public health, i.e., Wisconsin DOH's Environmental Public Health Tracking Program, Texas CEQ's emission events database, and EPA's Toxic Release Inventory.
Speakers:
Constance Bell, Health Educator, Bureau of Environmental and Occupational Health, Division of Public Health, Wisconsin Department of Health
Cynthia Gandee, Special Assistant, Coastal and East Texas Area, Texas Commission on Environmental Quality Office of Compliance and Enforcement
Shelley Fudge, Environmental Justice and Tribal Coordinator, Toxics Release Inventory Program, U.S. Environmental Protection Agency
Registration is required. Registered participants will receive details on how to access the webinar closer to the date of the session.
For more information, please visit: https://www.epa.gov/environmentaljustice
For questions about the series, please contact: Charles Lee at lee.charles@epa.gov