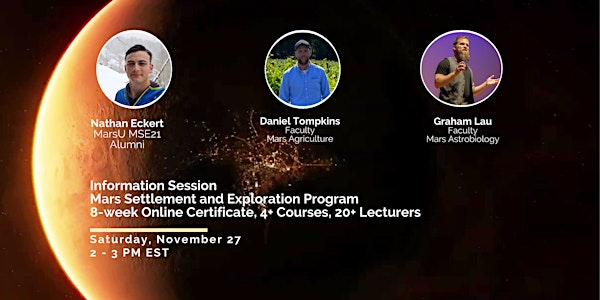 Information Session on 8-week Certificate Program in Mars Settlement
Learn about courses, research, and faculty in our 8-week online Certificate Program in Mars Settlement & Exploration scheduled Jan-Feb 2022
About this event
The Information Session is a 60-min virtual webinar to discuss about Mars University's 8-week Online Certificate Program in Mars Settlement and Exploration (MSE) that will be online in January and February 2022. Join for a presentation from MarsU Founding members and an open discussion on the courses, timeline, scholarships, recommendations, requirements, and more.
The remote learning program is flexible to working professional with 4 courses, 20+ lecturers for 5-10 hours of live classes and lectures per week. MSE22 provides an industry-relevant certificate to train young professionals, researchers, and early settlers about Mars geology, astrobiology, life support, settlement operations, agriculture, and more.
Apply Today
www.marsu.space/mars-settlement-and-exploration
Speakers
Daniel Tompkins, Faculty, Agriculture, MarsU
Graham Lau, Faculty, Astrobiology, MarsU
Nathan Eckert, MSE21 Alumni and Structures Engineer at Intuitive Machines
_________________________________________________________________________________
Mars University (MarsU) is an international research and academic nonprofit organisation on a mission to unite students, researchers, and professionals in a multidiscplinary environment to settle planet Mars. Cofounded over Summer 2020, MarsU is an international team of 25+ researchers, staff, and faculty planning to lead Mars education and research to create a habitable world and make life multiplanetary.