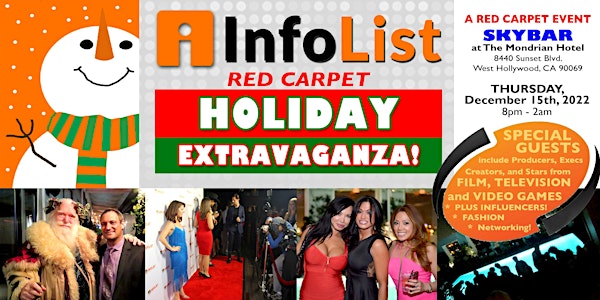 INFOLIST Red Carpet Holiday Extravaganza - A High-End Networking Event!
INFOLIST.com RED CARPET HOLIDAY EXTRAVAGANZA!! A HIGH-END NETWORKING EVENT! Special Guests - Top Pros from Film, TV, Gaming, Fashion & More!
When and where
Location
Skybar on Sunset at the Mondrian Hotel 8440 Sunset Blvd. West Hollywood, CA 90069
Refund Policy
Refunds up to 1 day before event
Eventbrite's fee is nonrefundable.
About this event
JEFFREY R. GUND & INFOLIST.com
invite you to attend the
INFOLIST.com
RED CARPET
HOLIDAY EXTRAVAGANZA!!
A HIGH-END NETWORKING EVENT!
SPECIAL GUESTS
include STARS, PRODUCERS, CREATORS, and EXECS from blockbuster films, top television shows, and major video game franchises including:
ILYA SALKIND
EXECUTIVE PRODUCER
SUPERMAN Franchise
Including Superman 1 – 3, Superboy (series), Supergirl (movie), and more!
ICONIC PRODUCER / WRITER / DIRECTOR
DAVID ZUCKER
(AIRPLANE!, NAKED GUN 1-3, SCARY MOVIE 3-5, PHONE BOOTH, BASEketball)
SCREENWRITER
DAVID HAYTER
X-MEN 1&2, THE WATCHMEN, THE SCORPION KING
Producer/Writer on WARRIOR NUN
and the voice of "Solid Snake" in Metal Gear Solid games
Starring as "King Shark" in Supergirl and The Flash
and as "Captain America" in Spider-Man: The Animated Series
SCREENWRITER
JIM HERZFELD
The OSCAR-NOMINATED MEET THE PARENTS (starring Ben Stiller & Robert DeNiro)
MEET THE FOCKERS (starring Ben Stiller & Robert DeNiro)
PRODUCER/WRITER/AUTHOR
STEVEN L. SEARS
XENA: WARRIOR PRINCESS
SHEENA
SWAMP THING
SUPERBOY
THE A-TEAM
JASON PAIGE
Singer of the original POKEMON THEME SONG
Voiceover in games – Deadpool, Elite Beat Agents
On screen in – Son of Zorn, Phineas & Ferb, The Muppets, HBO's Animals
EXECUTIVE PRODUCER
WALTER O'BRIEN
and true-life inspiration for the CBS hit show
SCORPION
CEO & Founder, SCORPION STUDIOS
THE MAN WHO FELL TO EARTH
SPIDER-MAN: HOMECOMING
VENOM
VFX /SFX/ANIMATOR
PAUL RUNYAN
FREE GUY
WANDAVISION
RED NOTICE
LOKI
MORBIUS
SPIDER-MAN: FAR FROM HOME
AGENTS OF S.H.I.E.L.D.
Gotham • Heroes Reborn • Sharknado 5
SONNY TIEN NGUYEN
Chief Creative Officer, COSMIC WIRE
Imagineer & Creative Designer for Disneyland and Walt Disney World on
STAR WARS GALAXY'S EDGE
Concept Designer and Prop Fabrication Designer on:
The OSCAR-NOMINATED AVENGERS: INFINITY WAR
AVENGERS: ENDGAME
THE MATRIX RESURRECTIONS
ANTMAN
The OSCAR-NOMINATED INTERSTELLAR
SPIDER-MAN: HOMECOMING
INDEPENDENCE DAY: RESURGENCE
PEE-WEE'S BIG HOLIDAY
GEOFF MARK
Lead VFX Artist on SPIDER-MAN 3 and SERENITY,
2nd Unit Director – Sharknado, Post Production Producer – The Simpsons
PRODUCER / ARTISTIC CONSULTANT
NEIL D'MONTE
Spectrevision (Elijah Wood's company)
Robots of Awesome/Sony Pictures – Head of Development/Creative Exec
WITH CELEBRITY GUESTS:
VOICE ACTOR
JON BAILEY
Narrator of 4-time Emmy-Nominated HONEST TRAILERS
The voice of "Optimus Prime" and dozens of characters in TRANSFORMERS anime, ads, films & games
Also voices in Hawkeye, Evil Dead (game), BumbleBee (movie), Pokémon: Detective Pikachu
almost 1 million followers on social media @epicvoiceguy
ATHENA VAS
Winner of THE BACHELOR GREECE (Warner Bros.)
JESSICA LEE
Suitcase #16 on DEAL OR NO DEAL
PLUS:
JACKIE DALLAS – appearing in Stranger Things, Fear the Walking Dead, 13 Reasons Why, The Resident, Leverage: Redemption, Criminal Minds, NCIS: New Orleans
PATRICK BARNITT – appearing in Picard, Star Trek: Insurrection, Star Trek: First Contact, Star Trek: Voyager, Star Trek: Deep Space Nine
STEVE OWENS – Exec VP of Mesmerising Records with 43 Platinum and Gold Records (including Michael Jackson, Bruce Springsteen, Lionel Richie, George Michael, and Journey)
CISCO REYES – Actor/Voice Artist – appearing in the EMMY-WINNING When They See Us, starring as "Romy" in Amazon's Chosen Kin Origins, starring in Entanglement, appearing in the OSCAR-NOMINATED West Side Story, Unsolved: The Murders of Tupac and the Notorious B.I.G., All Eyez on Me
AUDREY SEDA – EMMY NOMINATED director & producer on Photovoltaic, Associate Producer on the EMMY-WINNING Top Chef, and Post Production on the EMMY-NOMINATED Under the Banner of Heaven
ANTHONY BLESS – Starring in Tyler Perry's Ruthless, and appearing in Rosewood, Agents of S.H.I.E.L.D., Tyler Perry's Sistas, East Los High
CHRIS JAI ALEX – appearing in Thundercats Roar, Supergirl, Captain America: Civil War, Star Wars: Battlefront 2 (VG), "Mace in the Call of Duty game franchise, God of War, Deathstroke: Knights & Dragons, Aquaman: King of Atlantis, Darksiders Genesis
LANRE IDEWU - starring in South Side (HBO), appearing in the EMMY-WINNING Arrested Development, The Game, Everybody Hates Chris
CARMEN AIELLO – casting director on Corbin Nash, and Hipsters, Gangsters, Aliens and Geeks, etc.
AARON AKINS – (Actor Singer/Songwriter, starring as Herbie Hancock in Emmy-Winning Series I Think you Should Leave on Netflix
ANNA FLORENCE - Composer, The Oprah Winfrey Show, The Rosie Show; actress, singer
MATT CONANT – writer, Mystery Science Theater 3000
RYAN BABCOCK – appearing in The Orville, Sons of Anarchy, Brooklyn Nine-Nine, N.C.I.S. Los Angeles, Ray Donovan, Silicon Valley
JUDE GERARD PREST – appearing in the OSCAR-WINNING short Visas and Virtue, producer/director on the EMMY-WINNING A&E Biography: Bruce Lee: the Immortal Dragon; and the EMMY-WINNING Ocean Mysteries with Jeff Corwin
BRYAN MICHAEL STOLLER – Author: "Imagining Hogwarts" and "Filmmaking for Dummies" (quote from the book: "InfoList is a great resource for filmmakers!") and; writer/director/producer Santa Stole Our Dog, director, Tales from the Dark Side
ERROL WEBBER - Cinematographer of the Oscar-winning Music by Prudence, and the Sundance-winning American Promise
SASHA KERBEL – Appearing in A Good Day to Die Hard, starring in American Trash, PTSD A Soldiers Revenge
DANNY BELROSE – appearing in Grimm, Portlandia, Gone, Angels, Clowns & Geeks
SASHA ANNE – producer and starring in Reed's Point (Amazon Prime)
WITH
INFLUENCERS & CONTENT CREATORS:
SWAG BOY Q
Content Creator
(26.8 million followers on TikTok, 1.4 million on IG)
KATJA GLIESON
Singer / Model / Influencer
(9.6 million followers on Tiktok, 532K+ on IG)
PRESTON BRADLEY
Influencer / Content Creator
(3.6 million followers on TikTok)
THE KID SMITTY
Actor / Model
(3.2 million followers on TikTok, 276K on IG)
THE MAGIC MIKKE
Content Creator
(2.6 million followers on TikTok)
BASTIANO FARRAN
Entrepreneur / Producer / Actor / Business Advisor
(2.2 million followers on IG)
KATY FORD (FreckledHobo)
Content Creator / Influencer
(1.6 million followers on TikTok)
DR. ROBIN B
Influencer, Fitness Instructor, Pharmacist
(593K followers on IG)
CINZIA MONIACI
Model / Artist / Influencer
(275K followers on IG)
MANY MORE SPECIAL GUESTS TO ANNOUNCED SOON!
But get your tickets NOW so you can get the biggest discount! See details below!
HOLIDAY FUN!
Plus, you'll get your own personal reading from the acclaimed
THE OFFICIAL KISS PRINT READER!
As seen on The Real Housewives of Beverly Hills!
"Lips Unsealed, KISS Secrets Revealed"
A fun, entertaining encounter like you've never experienced!
www.OfficialLipstickReader.com
THIS WILL BE A MAJOR NETWORKING EVENT!
You should attend if:
You want to celebrate the holidays in style!
You want to do some high-end networking with top industry professionals!
You want to walk the red carpet!
You want to wish Happy Holidays to Jeff! :)
You just want to mingle with great people!
at
SKYBAR at the Mondrian Hotel
8440 Sunset Blvd.
West Hollywood, CA 90069
THURSDAY, December 15th, 2022
8pm - 2am
Red Carpet begins at 8pm
DRESS CODE:  UPSCALE, HIP, COOL, SEXY! (Dress Code Enforced by Skybar, so look sharp!)
Age 21+ only:  You MUST bring valid ID, Skybar is very strict about this!
FOR A LIMITED TIME ONLY - INFOLIST PREMIUM & PRO MEMBERS can get 25% OFF ON TICKETS (limited amount at this price, so DON'T WAIT!)
For DISCOUNT CODES & DETAILS visit:
https://infolist.com/listing/infolist-red-carpet-holiday-extravaganza-2022/
You MUST RSVP - THIS IS A GUEST LIST ONLY EVENT
GET YOUR TICKETS NOW!
BOTTLE SERVICE RESERVATIONS GET PREFERENTIAL ENTRY - THIS WILL BE A SOLD OUT EVENT
Please call Skybar to make your Bottle Service Reservations ONLY at (323) 848-6025 or email them at skybarlatables@sbe.com - Tell them you were sent by Jeff Gund! (ticket purchase still required)
This will be an INDOOR & OUTDOOR EVENT
Strict VACCINE-REQUIRED protocols will be enforced.
 (see full Covid policy at the bottom of this posting)
For Testimonials and InfoList SUCCESS STORIES:
For HIGHLIGHTS, Pics & Video of our PREVIOUS EVENTS:
Pre-Cannes & Post-Cannes Parties
To inquire about being a featured SPECIAL GUEST or
EVENT SPONSORSHIP
Please contact:
Follow INFOLIST on Instagram
Like INFOLIST on Facebook
Join Our Facebook Group
I look forward to seeing you there!
FAQs
Are there ID or minimum age requirements to enter the event?
Age 21 & over
What are my transportation/parking options for getting to and from the event?
Valet Parking at Hotel, as well as street parking & lots in the neighborhood.  Be sure to read any posted restrictions, etc..
How can I contact the organizer with any questions?
jeffsviplist@mindspring.com
COVID POLICIES FOR THIS EVENT:
Proof of vaccination is required for all guests - 2 shots:  Moderna or Pfizer full dose of 2 shots / for J&J must have 1 shot and booster (i.e., 2 shots) - or Novavax or AstraZeneca if from outside the U.S. 
Proof may consist of either original physical vaccination card or digital QR Code, and state ID with matching name.  Vaccination status will be verified for all attendees.  If guests cannot provide verification upon arrival, they will not be allowed to enter.
While there are outdoor areas for this event, some areas are indoors. 
While we will try to make the event safe for everyone, you are responsible for your own safety and risk assessment.  We cannot guarantee a zero risk of catching Covid-19 (or other communicable disease).
No refunds will be given for those not admitted or removed for failure to comply with the above measures.  Please note that protocols are subject to change, as new information comes to light.  Information on protocol updates or changes will be communicated via this website posting, and emailed to all ticket holders.  Guests with health conditions or who are concerned about their safety are encouraged not to attend the event.  By purchasing a ticket or registering for this event, you agree to these terms. If you do not agree to these terms, we look forward to welcoming you at a future event when our policies have changed.