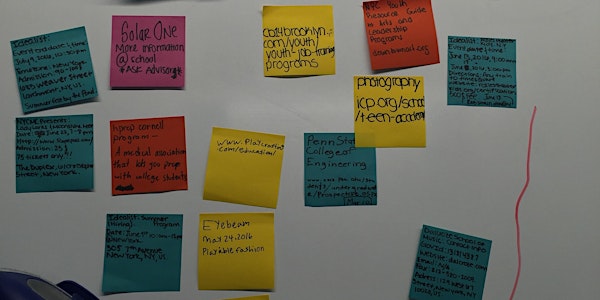 Info Session: "Building Youth Pathways in CS and Digital Making" Initiative
Date and time
Thursday, September 29, 2016 · 10am - 12pm EDT
Location
MAGNET 2 MetroTech Center, 8th Floor Brooklyn, NY 11201
Description
Come learn more about a new Hive Research Lab initiative to promote youth pathways in Computer Science and Digital Making!
Starting in the fall, HRL will lead a year-long research-practice partnership project to investigate and strengthen our impact as brokers of future learning opportunities to youth. The plan for this CS-Paths initiative is to design and test with organizational partners a set of "brokering interventions" that promote deep and extended learning experiences around CS and digital making for teens.
We hope to identify a small cohort of organizational partners who may be interested in participating in one or both of the following ways:
As CS-Paths Design Partners, who will collaborate with HRL on the design, testing and iteration of brokering interventions. Initiative partners will receive a modest stipend to cover participation time, as well as ongoing research support through the evaluation of interventions that come out of the initiative.
As CS-Paths Working Group Partners, who will attend regular working group sessions to discuss and reflect on the practice of brokering, as well as hear about the ongoing work of the initiative. Members of the working group will gain a deeper understanding of ways to enhance their brokering practices in their respective organizations.
During this info session, more details on the initiative will be shared, as well as the process for joining. This initiative is open to any NYC-based organization that offers computer science and digital making out-of-school programming to teens.
Light refreshments will be provided.
About the organizer
Hive Research Lab is an applied research partner of the Mozilla Hive NYC Learning Network and a project of Indiana University and New York University. It acts as an embedded research lab investigating and collaborating with network stakeholders including network stewards at Mozilla Foundation and the 70+ Hive NYC member organizations throughout New York City. Our work is made possible through generous support from the Hive Digital Media and Learning Fund in the New York Community Trust, the Spencer Foundation, and Capital One. For more information, visit hiveresearchlab.org