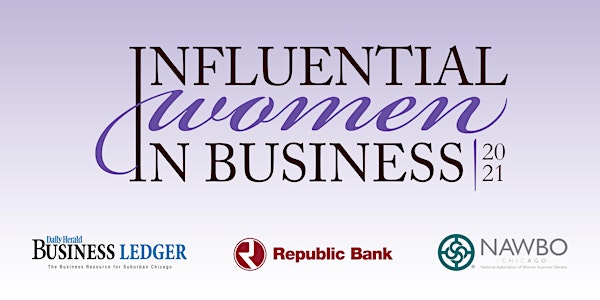 Influential Women in Business Virtual Recognition Webcast
Let's have a watch party!
About this event
Join us to recognize during an evening virtual recognition webcast.
The Business Ledger's Influential Women in Business Awards are given to suburban business women who share a commitment to professional excellence and their communities in the suburban circulation area of the Daily Herald Business Ledger
Event is free. Registration closes Nov. 10 at noon.
2021 Influential Women in Business:
Kerry Aiyash, Owner & CEO at Kerwell Premium CBD House
Jennifer Ashley, Partner, Attorney at Salvi, Schostok & Pritchard P.C.
Christina Connelly, Vice President, Human Resources & Benefits at OMRON Management Center of America, Inc.
Mary Lynn Fayoumi, President & CEO at HR Source
Kelly Gallagher, Owner & President at EverLights
Lori Ham, Sr. Director of Marketing, Events and Philanthropy at Northwestern Mutual
Kendall Harding, Human Resources Manager at Pulse Technology
Emily Heisley Stoeckel, Chairman of the Board at The Heico Companies, L.L.C.
Janelle Iaccino, Marketing Director at Rose Pest Solutions
Yvonne Irving, Vice President Business & Community Outreach at KCT Credit Union
Jody Kasza, Vice President, Recruiting at LaSalle Network
Summer Kelly, Executive Director at Mothers' Milk Bank of the Western Great Lakes
Marie Lazzara, Public Relations Manager at JJR Marketing Inc.
Natasha Marriner, Vice President, Private Wealth Advisor at Busey Bank
Edna McElroy, Senior Vice President - Regional Manager, Northern Region at Busey Bank
Becky Nelson, Manager of Business Development at Chamber630
Mary Porter PhD, Owner & CEO at Emergent Safety Supply
Lori Ritzert, Vice President Business Banking at Community Bank of Downers Grove
Carrie Szarzynski, Director, Management Services at NAI Hiffman
Amy Thomasson, Executive Director & VP of Marketing & Membership at Affinity Strategies
Natalie Wojtowicz, Operations Officer & Roselle Branch Manager at Itasca Bank & Trust Co.
Julie B. Yurko, President & CEO at Northern Illinois Food Bank

Republic Bank of Chicago is a local, family-owned commercial bank with over $2 billion in assets. Dedicated to serving their communities since 1964, Republic Bank has concentrated on what matters most to them; their customers. It is their customers' heritage of innovation, hard work, and entrepreneurship that drives and inspires Republic Bank. Over the past 55 years, they have expanded their financial services, reinvesting in their communities, and have grown to 19 locations across Chicagoland to better serve their clients. Visit republicebank.com for more information.

Did You Know . . .
NAWBO is the voice of 12 million women business owners nationally.
NAWBO Chicago is the largest of NAWBO's more than 60 chapters in the U.S.
Formed in 1978, NAWBO Chicago provides women business owners with leadership, education and networking opportunities amid a community of fellow women business owners. It also serves as a voice for its members on economic, social and public policy issues.
Member companies vary in size from one employee to several hundred with 17% of our members having 10 or more employees.
The Chapter's membership represents businesses in all major industrial, service and retail sectors.

Influential Women in Business is presented by the Daily Herald Business Ledger. You can learn more about this and other recognition programs (C-Suite of the Year Awards, Diversity in Business Awards, Annual Awards for Business Excellence, Best Places to Work in Illinois, Entrepreneurial Excellence Awards )at dhbusinessledger.com.
For Sponsorship and advertising information, please contact:
Andy Zielonka at 630-955-3592 | azielonka@dailyherald.com
Lori Urbaniec at 847-427-4626 | lurbaniec@daliyherald.com