Event Information
Refund policy
Contact the organizer to request a refund.
Eventbrite's fee is nonrefundable.
Infinite Transitions Meditation Series for those who are ill and or preparing to transition. What if you took an active role in your exit?
About this event
We will explore 7 Sessions of your Life
Using the power of your mind and body, through Meditation, Music, Breathwork and laughter yoga.
You will be guided by professionals so all you need to do is relax and open your mind to your memories and moving forward.
Sessions are will begin at 3pm PST LIVE and will also be recorded
Dates and Topics
Nov 30th Gratefulness
We will explore all things and people we are grateful for. You will leave this session with a sense of happy gratitude.
Dec 2nd Life accomplishments
We will revisit all of the things you have accomplished in this life. You will leave this session with a feeling of completion and being proud of what you have done here on earth.
Dec 4th Letting Go
We will begin the process of letting go of memories and or people that no longer serve us as we move to the next passage of life. You will leave this session feeling more light and empowered.
Dec 7th Packing your suitcase
We will take all of the memories of people, places, and things that have meaning and pack them in our spiritual suitcase. You will leave this session feeling more ready and looking forward.
Dec 9th We never die
This session we will dive into the teachings that we never die, we transition to a new life and a new being. After this session, you will be filled with the knowledge that you are an eternal body and soul. That knowing will replace any fear you may have.
Dec 11th Leaving
This session we practice leaving and what that might feel like. Lifting out of your body and letting God catch you. You will feel at peace and filled with love and calm.
Dec 13th Family support
This session is for your support givers and loved ones. You may share it with your loved ones, family members or caregivers. We will speak directly to them so they will meditate with you. It's their time. Time to thank them and give them some love and affirmation about their love for you and how they can help you on your journey.
**All Sessions will be available for replay at no cost to you, so you may listen over and over to expand your awareness, calm yourself and prepare your spirit to soar!
---The Sessions will be one hour and available on zoom from your phone or tablet and can be done from your bed, hospital bed or home.
---The Sessions will be LIVE and interactive with time to talk about your experience and journey.
---The Journal that accompanies this program, is a keepsake for your family and included in your purchase price. A value of $19.99. This Journal has all of the content from this course and allows space for writing about what you experienced.
The Price for seven sessions and your keepsake journal is $89.00
This program is sponsored by Calling all angels Foundation
www.callingallangels.foundation
www.infinitetransitions.com
Shirleen Von Hoffmann Cancer Coach www.callingallangels.foundation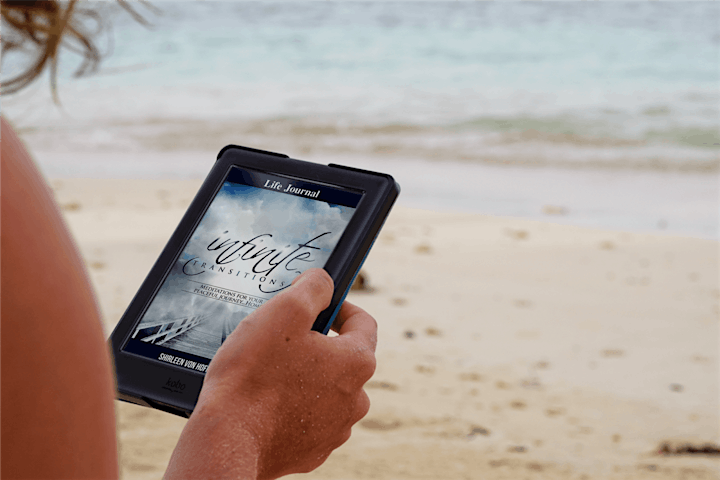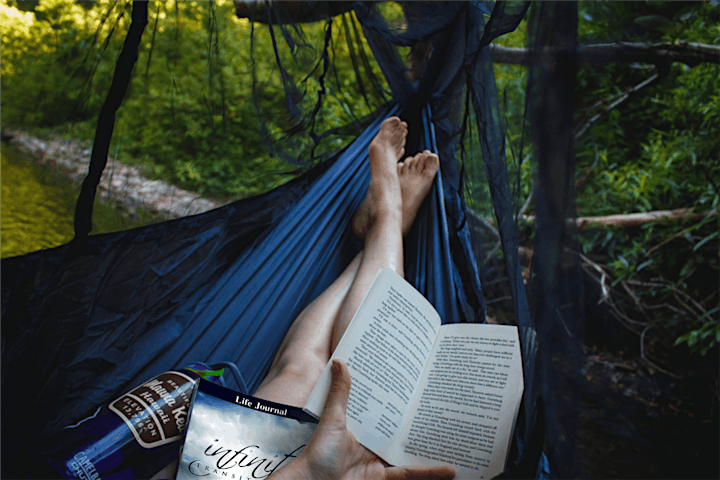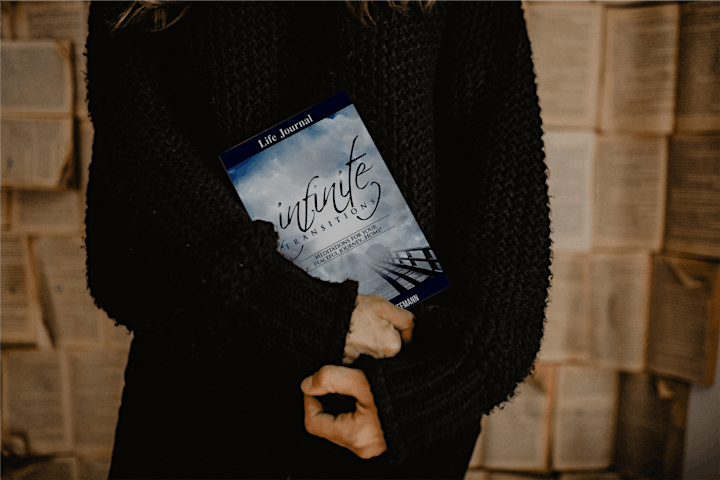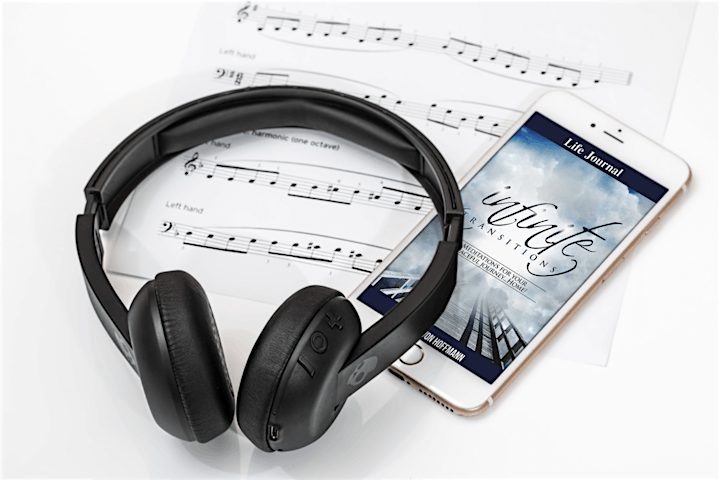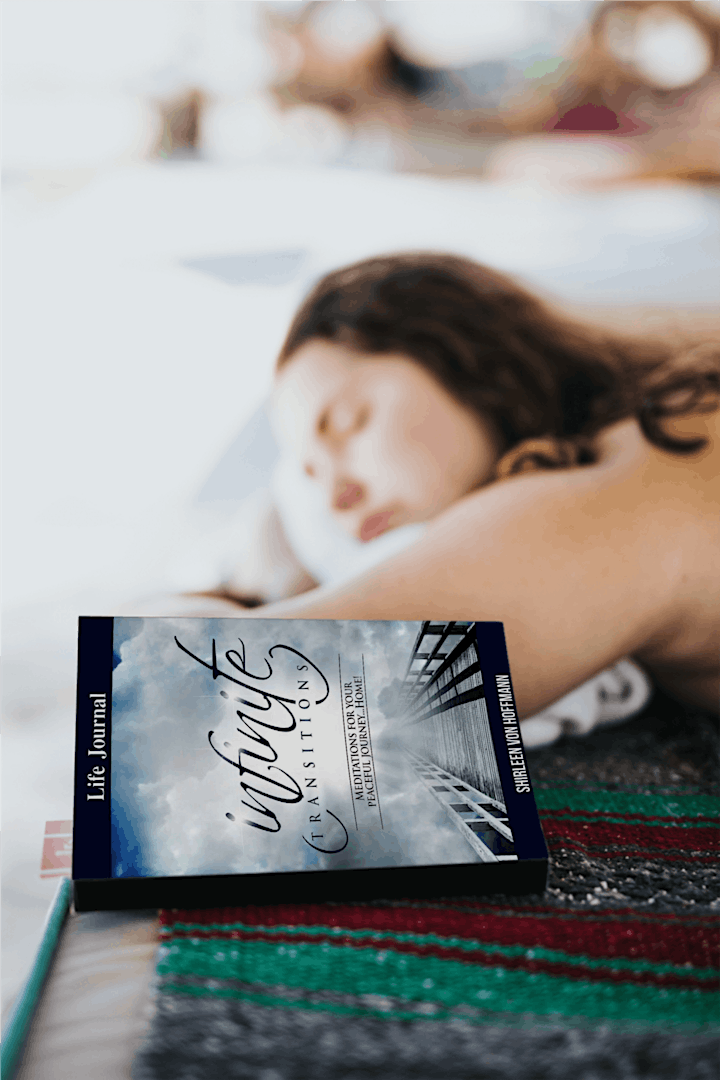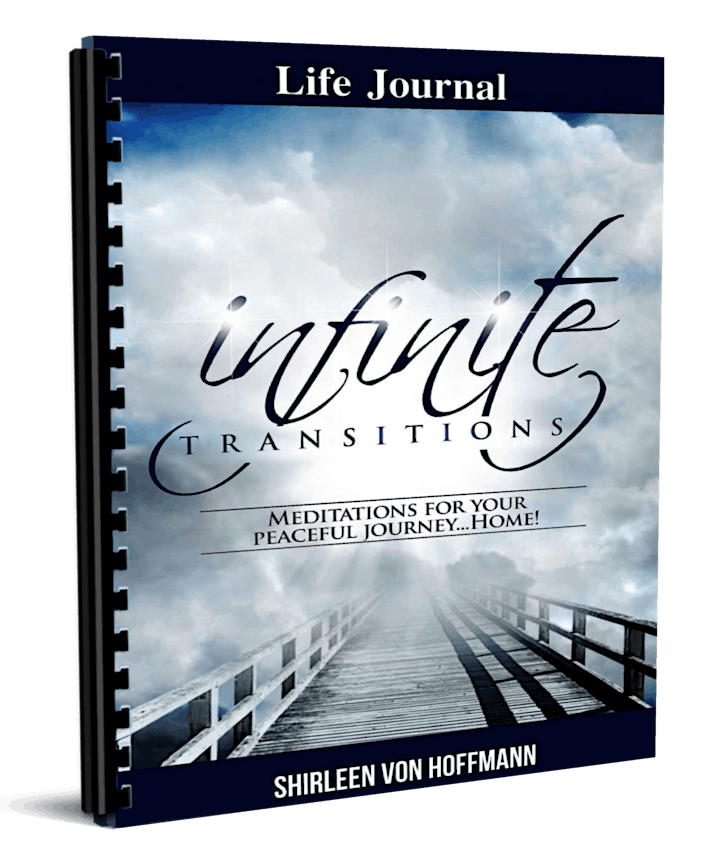 WHAT PEOPLE ARE SAYING
We spend our entire lives learning how to live. As children, we have to start at the beginning and acquire the most basic skills—how to walk, how to talk, etc. Over our formative years we build endlessly on this foundation, learning to read, to write, to add and to subtract. We proceed ever onward preparing for our adult lives and how exactly we're going to make our way in this world with years and years of education. We have endless questions and many are tasked to provide us with the most correct and useful answers, trying to get us ready as best they can for the life we are to lead.
It is, however, an undeniable fact of this life that we spend so much time preparing for, that we all must, sooner or later, leave it. And it is also an unfortunate fact that for all of our preparation, little or none of it is spent on how we can prepare for this universal circumstance that we all must face. We are taught endlessly how to live, but little or no time is spent on how to transition to the next phase that we must necessarily move on to. Shirleen Von Hoffmann's Transition Series fills that gap admirably. She re-defines the "death" experience from something that happens to us, to something that we can participate in, prepare for and ultimately define in our own terms. And after all, is that not the definition of life itself? Living it on our own terms and taking charge of it?
In my experience with the series, I found it to be very powerful. I was led, in an orderly and easy to follow fashion from the bounds of this world to the next. I could envision what that journey would be like, how it would proceed and what I would do to take charge of it. It was truly a joyous and uplifting experience. Throughout the steps of the series is the undeniable presence of Spirit; guiding, teaching, loving and urging you on to your ultimate and personal destiny. At times, I could actually see the space I would eventually move into and the entryway to the next level of my existence. My experience with the series turned my idea of death from a horrible and tragic event that I had no control over into a joyous return to the comfort and love of a home that I felt I had left a long, long time ago—one that I had unknowingly been striving to return to all along. It became like the shedding of an old and dirty set of clothes for a new, fine set of garments and then walking into a gathering where everyone you had ever loved was there to greet you. Truly an uplifting and spiritual experience for the patient and their family. Highly recommended.
Jim Hopkins, Writer & Marketing Manager
'Infinite Transitions' takes you on a journey deep inside your being to be physically, mentally, emotionally and spiritually cleansed for a meaningful, peaceful passing.
A circular breathing technique is core to each session, accompanied by inspiring music which will bring those who are transitioning extra life force energy. In the resulting clear, cleansed and aware state they focus on reviewing all areas of their life and getting their affairs in order.
Shirleen's clear, compassionate guidance and wide perspective will lead them through many past incidents which can then easily be released, bringing a deep understanding and peace.
This unique series of meditations is a valuable gift for anyone approaching their life's ending. Shirleen provides the opportunity to create a living testimonial of their life for their loved ones.
Thank you Shirleen for executing this inspiration from your wide open heart.
Meda Christiani, Therapist
****************************************************
"This work is life-changing and something I have never heard of. What a great idea to help those who are ill and afraid of what's to come at the end of our lives. I felt so alone until I played this series. Frankly, I think this is work we could and should do all along!
I felt as though I was lifting off of the bed when I listened to it. It was peaceful and covered every part of my life. It kept my mind busy, reliving every aspect of my life, and made my heart full. I feel so blessed to have found this work.The breathing made me feel more energetic and like I was getting a work out from my bed. The oxygen made a difference in my outlook.
The fact that you gave this to the community for no charge and made it available on a cell phone, and made it accessible for me from my hospital bed is a treasure.
Thank you, Shirleen, for creating this masterpiece to help others! God bless you for this work."
Gerry Singleton
**************************************************
The Calling All Angels Foundation's new meditation series, 'Infinite Transitions,' is truly a Masterpiece! It's a brilliant, thoughtful, heartfelt program that Lovingly assists anyone with the Preparation for Transition. The program also comforts and supports their family and friends.
Shirleen Von Hoffmann has created a must-have gem for anyone in this stage of life. The entire set of audio Meditations and the 'Life Journal' is exquisitely designed and presented by Shirleen. As a testament to her kind and giving heart, she offers the entire program free of charge! Bravo!
Love, Thanks, and Blessings to you, Shirleen, for your tireless devotion to helping so many people in need. Our World is Infinitely better because of you!
Rev. Tana Marie
How do I access the Meditation Series?
You will be sent a zoom link to click on each week for access and recording links for unlimited replay.
Do I have to play the series, in order ,by the number of meditation?
Yes, that is recommended as they were put in an order for a reason.
Can my family do the series with me?
Yes, they can! Everyone can enjoy this series. You can do it each privately or put it on a speaker and have the entire room do it as long as you don't disturb other patients.
How much does it cost? $89.00 plus taxes and eventbrite fees. You get seven, hour longs sessions on different topics and a journal valued at $19.99.
You also will get unlimited playback at no cost.
What do I need to play the series?
You can use your phone, your tablet or computer to access zoom.
You can play it from anywhere on any device.
How long is the meditation series?
Each session is 30 to 40 minutes long with a 20 minute interactive conversation segment.
Do I need the internet to play the series?
Yes you need a wifi internet connection, and you will receive links at the end of the program to repeat the playback of these recordings as many times as you wish.
Why is the Life Journal critical?
In the Meditations, you are asked to write down everything you remember in a journal or speak it in your phone. The life journal is a book for you to write down your feelings and responses to the questions in the series. It also repeats everything said in the series in case you fall asleep or miss anything. If we go too quickly you can complete the questions in your quiet time. The life Journal will also be a treasured keepsake for your family when you transition.
Advice: Make sure to:
Due to hospital wifi networks being hard to locate, make sure you have wifi and internet capability beforehand.
Have a pair of earphones or headphones so you can completely engage in the experience and hear the music and instruction well.
We have provided video as well for those that prefer to watch images to follow the meditation.
Plan on 40 minutes of non-interruption, and meditation when you begin the session. the last 20 minutes will be for interactive discussion.
You may be sitting down, lying down whatever is comfortable for you.
Loose clothing is best, and a blanket to cover yourself in case you become chilled is good.
Date and time
Location
Refund policy
Contact the organizer to request a refund.
Eventbrite's fee is nonrefundable.
Organizer of Infinite Transitions Meditation Series for those ill or nearing transition
Biography
"I work for me," Sarah Potenza declares at the beginning of Road to Rome, kicking off her second solo album — a record of self-empowered R&B, swaggering soul, and contemporary blues — with her own declaration of independence.
Filled with messages of self-worth, determination, and drive, Road to Rome shines new light on a songwriter whose career already includes multiple albums as front-woman of Sarah and the Tall Boys, a game-changing appearance on The Voice, and an acclaimed solo debut titled Monster. Released one year after she sang in front of 12 million people during The Voice's eighth season, 2016's Monster prompted Rolling Stone to gush, "Potenza is to the blues what Adele is to pop: a colossal-voiced singer who merges her old-school influences with a modernistic sound." Three years later, that sound deepens and intensifies with Road to Rome, an album that shows the full scope of Potenza's aims and ambitions.
And just who is Sarah Potenza? She's a songwriter. A bold, brassy singer. A businesswoman. A proud, loud-mouthed Italian-American from Providence, Rhode Island, with roots in Nashville and an audience that stretches across the Atlantic. Road to Rome spells it all out. Co-written by Potenza, produced by Jordan Brooke Hamlin (Indigo Girls, Lucy Wainwright Roche), and recorded with a female-heavy cast of collaborators, the album isn't just her own story. It's the story of all artists — particularly women, who remain the minority within the male-dominated music industry — who've learned to trust their instincts, refusing to let mainstream trends dilute their own artistic statements.
For Potenza, such lessons were learned during the writing sessions for Road to Rome, which took place aboard a cruise ship in the Caribbean, as well as at her home in East Nashville. It was during the cruise that she first began writing songs with Justin Wiseman, a piano player from Austin, TX. For years, she and her husband, Ian Crossman, had worked together as a duo, splitting their musical duties more or less equally, writing songs with guitar in hand, and merging their very different influences. This was something different, though — something about the piano that allowed Potenza the chance to rediscover her own voice, making an album whose unique approach to soul music was entirely her own. Although Crossman and Wiseman's contributions as co-writers can be heard throughout Road to Rome's tracks, the album represents a strong shift in dynamic, with Potenza leading the charge.
When it came time to record Road to Rome at MOXE, Jordan Brooke Hamlin's Nashville-area studio, Potenza looked to a wide range of musicians for influence. She turned to Whitney Houston. To Lauryn Hill. To Pops Staples, the Dirty Projectors, RL Burnside, Bette Midler, and more. Those artists gave her inspiration not only on a musical level, but on an emotional and thematic level, too. They were artists who spoke with conviction, chasing their own muses into unique, personalized territory. Potenza did the same, turning Road to Rome into an album filled with everything from the torch song balladry of "Earthquake" (a love letter to Crossman, thanking him for years of support ) to the funky fire of "Dickerson and Queen" (where Potenza howls, swoons, and croons over bass grooves and swirling organ, reminding everyone that, "I don't give a fuck about nothing but the music"). She even makes room for a piano-propelled cover of "Worthy," originally written by Grammy-nominated icon Mary Gauthier, who personally sent the song to Potenza.
Released on International Women's Day 2019, Road to Rome is the sound of a songwriter taking the wheel and driving toward her own destination. This is Sarah Potenza's strongest album to date: a battle cry from a soul singer and blues belter, shot through with pop melodies and rock & roll attitude.