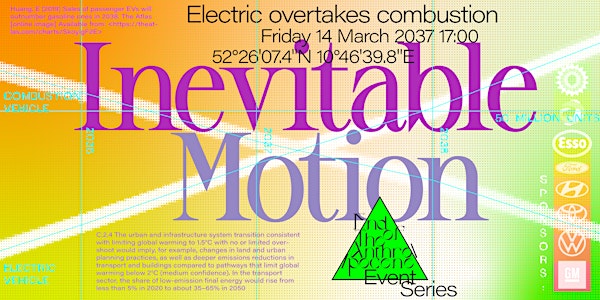 Inevitable Motion
Electric overtakes combustion
Date and time
Starts on Saturday, March 14, 2037 · 5pm CET
Location
Volkswagen AG Volkswagen AG - Halle 12 38440 Wolfsburg Germany
About this event
Comparisons between electric vehicles and conventional vehicles are complex. They depend on the size of the vehicles, the accuracy of the fuel-economy estimates used, how electricity emissions are calculated, what driving patterns are assumed, and even the weather in regions where the vehicles are used. There is no single estimate that applies everywhere.
However although still an incomplete part of a larger solution, electrification of transit is necessary to achieve zero carbon for the planet.
Over 16% of the planet's emissions are due to transport.10% of that is due to road travel, and 60% of that road travel is passenger vehicles including cars, motorcycles and busses.
On average over an electric vehicle's lifetime it has 43% lower emissions than an equivalent diesel vehicle.
_
Tickets to this event are free, but if you would like to give the cost of a club entry please consider donating to climateemergencyfund.org
About the organizer
End Of The Anthropocene is an event series to celebrate the coming of the end of the age of man.
Join us in revelling at the End Of The Anthropocene.