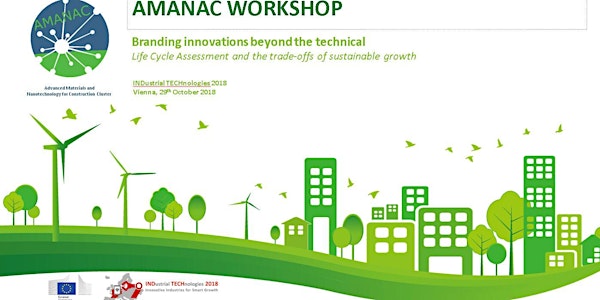 IndTech Amanac workshop - Branding innovations beyond the technical
When and where
Location
Messe Wien Exhibition Congress Center 1 Messeplatz 1020 Wien Austria
Description
With the environmental impacts of materials and processes gaining more attention, the desire and attempt to quantify these through life cycle assessment (LCA) analyses in recent years has resulted in several international certifications and legislation strategies, aiming to inform decision-making. The EU action plan for the Circular Economy, COM(2015) 614/2, not only examines options for a more coherent policy framework covering the different strands of work on EU product policy, but proposed a broad range of measurements to be implemented by 2019. The EU Member States have also underlined this motivation in their Council Conclusions on the EU action plan for the Circular Economy (10518/16).
Despite Life Cycle Thinking being already widely accepted as a guiding principle for designing the EU product policy framework, the practical implementation of Life Cycle based decision-making has been quite limited, mainly due to the fact that the needs of different end-users and stakeholders have not been properly acknowledged and/or effectively communicated.
Therefore, this workshop (organised by AMANAC cluster partners) aims to address the challenges and opportunities of Life Cycle based decision-making by offering different stakeholders a thorough review of various LCA technical and communication barriers. It will consider social and economic perspectives to facilitate a thorough and holistic sustainable approach.
Confirmed speakers:
Olga Rio Suarez, Industrial Technologies: Advanced materials and Nanotechnologies, DG Research & Innovation, European Commission
Doris Schröcker, Head of Unit of Industrial Technologies: Strategy, DG Research & Innovation, European Commission
Lucía Iñigo Paarman, CDTI, Ministry of Science and Innovation of Spain and Spanish Representative to the NMBP Management Programme Committee
Gian Marco Revel, ECTP, Università Politecnica delle Marche
Ιoanna Deligkiozi, ASRHAE Hellenic Chapter
Katherine Adams, Loughborough University
Giorgio Urbano, RINA Consulting S.p.A.
Shahab Resalati, Oxford Brooks University
Owen Abbe, BRE
Jakub Heller, Geonardo
Helen Luisa, USTUTT
Callum Hill, NIBIO
Gabriela Urbanová, FENIX
Luis Enriquez, Ecodek
Chris Berkhout, LM Wind Power
Esteban Camacho, RDC
James Ling, Greenovate!
Please register for the INDTECH2018 conference as well:
https://indtech2018.b2match.io/signup
Registration is free of charge!
https://www.indtech2018.eu/