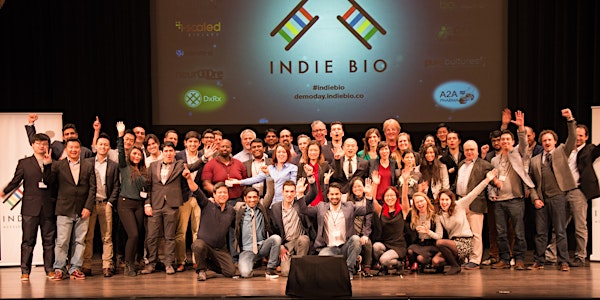 IndieBio SF Demo Day Sept 14th, 2017 at Herbst Theater
By The IndieBio Team, Arvind, Alex, Ron, Jun, Parikshit and Ryan
Date and time
Thursday, September 14, 2017 · 2 - 7pm PDT
Location
Herbst Theatre 401 Van Ness Avenue San Francisco, CA 94102
Description
You are cordially invited to the IndieBio SF Demo Day on Thursday, September 14th at the Herbst Theater.
IndieBio, an SOSV accelerator, is the world's largest seed-stage biotech accelerator. At IndieBio, we are devoted to building startups dedicated to solving humanity's most pressing problems with life itself. Our 4-month program includes $250K funding, lab space, and mentorship to foster the next generation of biotech entrepreneurs.
Come see the culmination of IndieBio's latest class of twelve biotech companies. The teams come from around the globe and span industries including food, agriculture, bioremediation, digital health, therapeutics, and regenerative medicine.
LIVESTREAM
Starting at 3pm PST, we'll be livestreaming the event on the IndieBio YouTube page.
Twitter: #IndieBio
AGENDA
Reception - 2pm-3pm
Presentations - 3-5pm
Meet the companies and mingling - 5-7pm
Please RSVP, we're looking forward to seeing you all!
Below is a brief overview of the presenting companies:
BioAesthetics is regenerating the nipple-areolar complex for the 200,000+ women whom undergo mastectomies every year.
DNALite Therapeutics is developing gene therapy treatments for the gastrointestinal tract. The first lead candidate is for colon cancer, which is the second deadliest cancer in the U.S.
Finless Foods is producing real fish meat in vitro to feed 8B+ people in 2020. Their fish is free from the mercury, plastic, and hormones that come with all aquaculture and factory fish.
Health Linkages is the Data Provenance Company. Health Linkages uses a combination of blockchain and big data to enable healthcare and life science institutions to trust, protect and share their data.
QuantumCyte is enabling a deeper understanding of the immune system and cancer biology by enabling next-gen single cell analysis. Their technology has unprecedented ability to analyze large numbers of cells at industry leading resolution.
Pheronym is creating an all natural highly effective insect control for agriculture. By leveraging pheromone spray they double nematode's effectiveness as an organic insecticide to rival chemicals, without any of the negative health or environmental impact.
Prellis is creating living tissues and organs for pharmaceutical testing and organ transplant. Prellis instantaneously prints high resolution tissue scaffolds that grow into functioning human organs.
Proteorex is discovering small-molecule drugs to treat diseases with the greatest unmet medical need. Their platform can rapidly and cost-effectively unlock previously undruggable targets and has produced multiple partnered compounds.
Stelvio Therapeutics develops drugs to treat incurable cancers and neurodegenerative disease by driving diseased stems cells to non-diseased fates. Stelvio does this though a machine vision and learning platform that identifies drugs inducing epigenetic changes.
Sugarlogix is creating prebiotic sugars with functional benefits for your gut health. Found naturally in human breast milk, their functional sugars restore balance to the gut microbiome, thus enhancing the immune system and reducing inflammation.
NotCo is combining AI with food-science to craft cutting-edge plant-based foods that deliver unprecedented experiences: Greek Yogurt, Milk, Cheese, Mayo all tasting like the real thing (and even better).
UBA cleans industrial wastewater from coal, gold, and platinum mines with an organic bioremediation system. Their first system is operating on a large coal mine in South Africa.