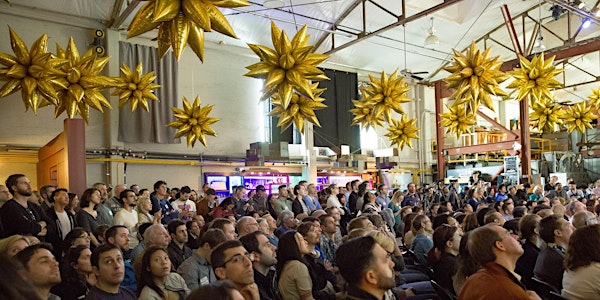 IndieBio SF Demo Day Feb 9th, 2017 at Herbst Theater
When and where
Location
Herbst Theater 401 Van Ness Ave San Francisco, CA 94102
Description
You are cordially invited to the IndieBio SF Demo Day on Thursday, February 9th at the Herbst Theater.
IndieBio is the world's largest seed-stage biotech accelerator. At IndieBio, we are devoted to building startups dedicated to solving humanity's most pressing problems with life itself. Our 4-month program includes $250K funding, lab space, and mentorship to foster the next generation of biotech entrepreneurs.
Come see the culmination of IndieBio's latest class of thirteen biotech companies. The teams come from around the globe and span industries including food, agriculture, therapeutics, digital health, industry, medical devices, and more.
LIVESTREAM
Starting at 3pm PST, we'll be livestreaming the event, please feel free to share:
https://www.youtube.com/watch?v=Q5yjrwUTbqI
Twitter: #IndieBio
Agenda:
Reception - 2pm-3pm
Presentations - 3-5pm
Meet the companies and mingling - 5-7pm
Please RSVP, we're looking forward to seeing you all!
IndieBio (IBSF4) presenting companies:
A2A Pharmaceuticals
A2A Pharmaceuticals designs computationally pre-optimized small molecule therapeutics for the treatment of cancer and antibiotic resistant bacterial infections.
Animalbiome
Animalbiome monitors and treats animals with chronic health conditions with a novel microbiome testing service and fecal transplant therapy.
BioInspira
BioInspira is harnessing biology to transform modern industry infrastructure by providing remote sensor networks for 24/7 chemical leak detection.
Catalog
Catalog is harnessing DNA to store the world's information.
DxRx Medical
DxRx offers rehab on your phone, treating problem drinking through physician consultations and light-touch behavior support. Outcomes data shows average patients cut drinking in half in the first month, improving their health and reducing costs for employers and insurance.
GEA Enzymes
GEA Enzymes creates designer proteins by finding and manipulating specific enzyme activity. They make enzymes for the food industry that reduce saturated fat levels while maintaining consistent aroma, taste, and feel.
Mendel Health
Mendel Health automates matching cancer patients to clinical trials through personal medical history and genetic analysis.
NeuroQore
NeuroQore is commercializing a new repetitive transcranial magnetic stimulation (rTMS) therapy system for treatment of drug resistant depression. rTMS is a new treatment that does not require anesthesia, has no cognitive side effects, and is widely accepted by patients.
Pure Cultures
Pure Cultures develops and manufactures novel prebiotics and probiotics to support the animal health and eliminate antibiotics in our food chain.
Ravata Solutions
Ravata is transforming the production of animal models used in medical research and pre-clinical trials. Their bench-top technology is shortening the creation of these transgenic organisms from a matter of years to hours.
Scaled Biolabs
Scaled Biolabs is accelerating biologic, gene, and cell therapies using smart microfluidic chips. Thousands of cell experiments can be parallelized and automated on their lab-on-a-chip system, increasing throughput, precision, economy, and insight that can lead to dramatic innovations in organogenesis, fermentation condition optimization and therapeutic production.
Venomyx Therapeutics
Venomyx is creating a universal recombinant antivenom for snakebite. Their portable solution will bring antivenom into the 21st century and make treatment safe, effective, and available to the 5.5 million victims of snakebite per year.
ViaeX
ViaeX creates biological nanofiltration systems for water and air which are 400% more efficient than current solutions and enable selective pollutant and bacteria targeting. These systems are biodegradable, low cost, and rapidly scalable.