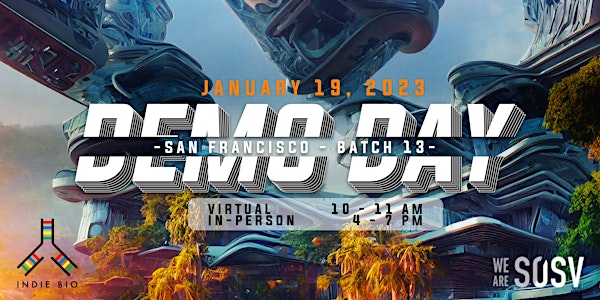 IndieBio SF - Demo Day Batch 13 (2023)
IndieBio San Francisco - Batch 13 Demo Day debuts some of the top curated startups in climate tech, biotech and deep tech
When and where
Location
Online & 479 Jessie St 479 Jessie Street San Francisco, CA 94103
About this event
If you are already signed up as an investor, please check your inbox for an Eventbrite email sent out at 7 AM PST on Jan 19th, which contains the link to the Investor Portal.
---
Ticket details
Online General audience - will receive email reminders to watch on YouTube, other details
Online Investor Only - will receive a portal with decks and calendly links to schedule time
In-person & Online investor - will portal link to deck and calendly links, as well as instructions for attending the in-person event.
Event timing
10:00 - 11:00 AM - We've elevated the Demo Day by making it more like a start-up film festival. Each company will have a 2.5 minute nano-documentary made by the IndieBio team. They're fun, they're short, they're perfect with your morning coffee or late lunch (for East coast).
We will email a link to the RSVPs prior to the event starting
4:00 - 7:00 PM - in-person investor only event to meet our founders at our office, have meetings, see demos, etc. Food, drinks, and meeting areas will be available for all investors.
Address: 479 Jessie Street, San Francisco, CA 94110 (Google Maps)
Preview the startups
Read the company descriptions at our website: https://indiebio.co/cohort/ibsf13-2022/
Featured companies
Asterix - World's first platform to produce heterologous proteins with full glycosylation profile for enhanced functionality
Dandelion Therapeutics - The most advanced and feature-rich AI system for LNP generation and discovery for organ-targeted drug delivery
Gozen Bioworks - The strongest and softest biomaterial for alternative leather, three times as strong as animal leather
Ingrediome - Scalable algal production of the best animal protein for texturizing foods
Laguna Bio - The most potent known stimulator of gamma-delta T cells for immuno-oncology is under development here
MAA'VA - The strongest eco-concrete, 30% lighter than normal concrete without compromising compressive strength of traditional concrete
Melio - Hypothesis-free infectious disease diagnostics platform, that is affordable, direct-from-blood, and cloud-deployable
MetalX - World's most scalable biological extraction and refining system for rare earth elements, based on 10 years NASA research
Minus Materials - World's first biologically grown concrete and cement to decarbonize the built environment
Mira Biotech - World's first completely 100% resin-free ultra-MDF (ubiquitous engineered wood) made from industry waste
Nitrofix - World's first proprietary electrolyzer that produces green ammonia directly from nitrogen and water, without the need for hydrogen
Reach Neuro - The only company in the world to have ever restored upper limb mobility to stroke victims up to 9 years post-trauma
west~bourne - Sustainable high-end food brand that partners with regenerative farms, already in 60+ stores and selling out on D2C, created by New York's first true zero-waste restaurant
ICYMI: watch last year's demo day