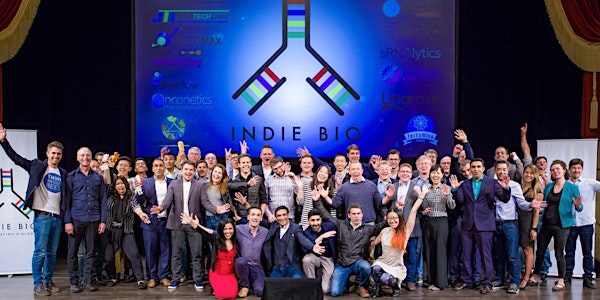 IndieBio Demo Day June 25, 2019 at Herbst Theater
When and where
Location
Herbst Theatre 401 Van Ness Avenue San Francisco, CA 94102
Description
You are cordially invited to the IndieBio Demo Day on Tuesday June 25th, 2019 at the Herbst Theater.
https://sosv.com/events/indiebio-08/
IndieBio, an SOSV accelerator, is the world's leading seed-stage biotech accelerator. At IndieBio, we are devoted to building startups dedicated to solving humanity's most pressing problems with life itself. Our 4-month program includes $250K funding, lab space, and mentorship to foster the next generation of biotech entrepreneurs.
Come see the culmination of IndieBio's latest class of biotech companies.
LIVESTREAM
Starting at 3pm PST, we'll be livestreaming the event on the IndieBio YouTube page: https://youtu.be/a5fS7oEEXMc
www.Twitter.com/IndBio
#IndieBio
AGENDA
Reception - 2pm-3pm
Presentations - 3-5pm
Meet the companies and mingling - 5-7pm
Please RSVP, we're looking forward to seeing you all!
Class 8 preview
11 Biomics is developing microbial plant therapaeutics, starting with powdery mildew in cannabis. While at IndieBio they showed unmatched efficacy in multiple field trials, and are scaling operations to meet demand at multiple large grow operations.
BeeLine is reprogramming T-Reg cells to modulate the immune system. Their first indication is organ transplant.
BiomeSense has built an integrated toilet device to allow for daily microbiome collection and analysis. While at IndieBio they fully integrated their first unit and signed pilots with 6 leading academic researchers to deploy in clinical trials in 2020.
Blue Planet Eco-Systems turns sunlight into seafood with a modular closed-loop aquaponics system. Deployed at industrial scale, they allow for food security anywhere with sunlight and unarable land.
Caspr Bio uses CRISPR to unlock rapid point of care diagnostics, starting with antimicrobial resistance. While at IndieBio they discovered a novel Cas 12a and Cas 9, signed hospitals to co-develop their product, and validated the technology on multiple clinically relevant targets.
Decomer replaces single use plastics with a new plant-based packagin material that is tunable to be edible and water soluble. They're in conversation with some of largest food and CPG brands in the world for applications in food packaging and detergent pods.
Electro-Active Technologies turns food waste into hydrogen with a modular biocatalyst. They're working with composters, cities, and hydrogen end users to localize production and enable hydrogen as highly economical power source and solution to food waste.
Gavilan Biodesign designs novel drugs using a physics + AI based model to scan through trillions of molecules per day. Their designs model drugs to be resiliant to cancer mutations, and while at IndieBio they've signed multiple partnerships to deliver novel therapeutics and brought on world leading advisors in AI and protein modeling.

Guided Clarity discovered a novel medical food for longevity through targeted clearand of dysfunctional mitochondria, improving cellular energy production. In their first clinical study on healthy volunteers, the data showed an increase in insulin sensitivity, a reduction in inflammation marker NLR, and improved physical function.
New Culture is making cheese without the cow. Combining dairy proteins, expressed by microflora, with plant lipids and sugars, their method arrives at curds that are then advanced into the traditional cheesemaking process, be that stirred, kneaded, stretched or aged.
Tinctorium Tinctorium is making the greenest bluejeans for the planet, using biofermentation to create indigo dye. Their process is uniquely scalable, environmentally friendly, and safe which has led to partnering interest from two of the world's largest jeans brands. Alongside these partnerships they have scaled production and signed advisors who have launched multiple high-end denim brands.