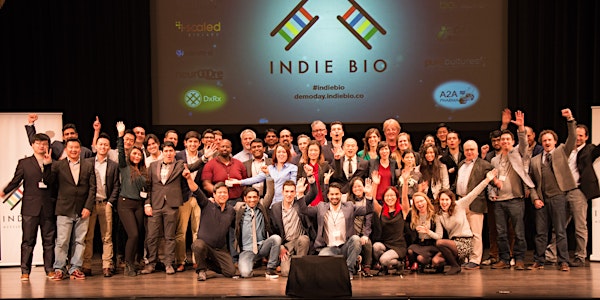 IndieBio Demo Day Apr 17th, 2018 at Herbst Theater
When and where
Location
Herbst Theatre 401 Van Ness Avenue San Francisco, CA 94102
Description
You are cordially invited to the IndieBio SF Demo Day on Tuesday, April 17th at the Herbst Theater.
IndieBio, an SOSV accelerator, is the world's leading seed-stage biotech accelerator. At IndieBio, we are devoted to building startups dedicated to solving humanity's most pressing problems with life itself. Our 4-month program includes $250K funding, lab space, and mentorship to foster the next generation of biotech entrepreneurs.
Come see the culmination of IndieBio's latest class of fourteen biotech companies. The teams come from around the globe and span industries including therapeutics, biomarker discovery, food, agriculture, consumer biotech, and regenerative medicine.
LIVESTREAM:
Starting at 3pm PST, we'll be livestreaming the event on the IndieBio YouTube page.
www.Twitter.com/IndBio
#IndieBio
AGENDA
Reception - 2pm-3pm
Presentations - 3-5pm
Meet the companies and mingling - 5-7pm
Please RSVP, we're looking forward to seeing you all!
COMPANIES
Delivering AI-powered decision support software designed to monitor and reduce antibiotic resistance.
Developing smart and strong bees for crop pollination. With their technologies, farmers can increase crop yields up to 90%, target specific crops for pollination, and substantially reduce bee population decline.
Leading the next generation of multiplexed in situ single-cell RNA analysis tools for research and diagnostic applications.
Pioneering access to high quality fat grafts, fat-derived stem cells and cell therapies. Their device enables doctors, clinics and hospitals to provide safe and cost-effective non-surgical treatments for patients.
Creating 'wood' without the tree. Their formable, natural fiber and resin replicates the performance, look, feel and re-usability of premium wood from scalable, carbon negative materials.
MezoMax enables faster bone fracture healing, improved osteoporosis treatment, and stronger bones in elderly patients with their novel calcium gluconate stereoisomer, which regulates calcium and mineral metabolism.
Developing long acting non-opioid chronic pain medications. Its novel delivery system eliminates addiction potential and side effects that are seen across all opioids.
Nivien Therapeutics is developing the first small molecule drugs to enhance both chemo and immunotherapies. Their compounds overcome multiple resistance mechanisms across 15 cancers to increase efficacy and decrease toxicity of treatments.
Nuro enables instant communication and computing for millions of incapacitated patients in ​post-surgeries and ICUs, ​nursing homes and rehabilitation​​ by using brain signals.
Onconetics Pharmaceuticals develops gene therapies which target tumor cells with specific gene expression profiles. The effector arm of the therapy involves a genetic switch which activates an apoptotic inducer to kill the cancer cell and spares healthy tissue.
sRNAlytics has developed a novel bioinformatics platform to identify error-free, small RNA biomarkers. Their Proof-of-Concept work in Huntington's Disease validated eight biomarkers that are 100% accurate for classifying early vs. late stage disease, and disease progression.
Sun Genomics is a microbiome health company focused on curing dysbiosis through personalized probiotics. Their platform enables the highest resolution profiling of customer gut makeup, empowering them to make and track changes over time.
Terramino Foods is reimagining seafood, using fungi and algae to make healthy, affordable, and toxin-free products.
Vetherapy creates novel stem cell therapies for cats, dogs, and horses. Their most innovative product speeds up wound healing and treats autoimmune and inflammatory diseases.