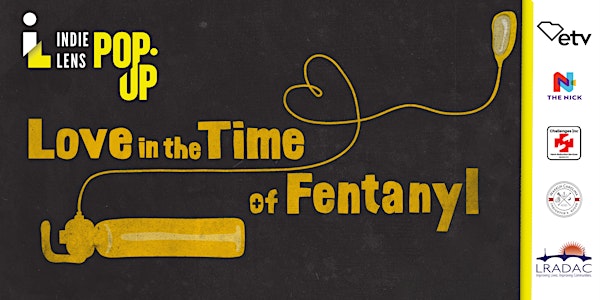 Indie Lens Pop-Up Screening: 'Love in the Time of Fentanyl'
A supervised drug consumption site gives hope to a marginalized community ravaged by the overdose crisis.
When and where
Location
Nickelodeon Theatre 1607 Main Street Columbia, SC 29201 United States
About this event
South Carolina ETV (SCETV), Challenges Inc., LRADAC, and WakeUp Carolinas invite you to join us for a screening event of "Love in the Time of Fentanyl" hosted by the Nickelodeon Theatre on Wednesday, January 25, from 6 - 8 p.m.
The evening's event will consist of an hour-long version of the film, followed by a panel discussion involving representatives from each host organization listed above, and will end with an onsite Narcan training. The panel discussion will be moderated by Dr. Jennifer Fillo, an assistant professor within the University of South Carolina's Arnold School of Public Health.
Our panel consists of:
Jeremy Martin, Vice President of Treatment and Intervention, LRADAC
Marc Burrows, Director of Challenges Inc.
Ronnie Grigg, film participant and long-time harm reduction worker
Aimee Hourigan, Director of Substance Abuse Prevention and Education, USC
Film description: As deaths in Vancouver, Canada reach an all-time high, the Overdose Prevention Society opens its doors—a renegade supervised drug consumption site that employs active and former drug users. Its staff and volunteers do whatever it takes to save lives and give hope to a marginalized community in this intimate documentary that looks beyond the stigma of people who use fentanyl and other drugs.
For more information, visit the "Love in the Time of Fentanyl" page on INDEPENDENT LENS.
"Love in the Time of Fentanyl" premieres on SCETV on Monday, February 13, at 10:00 p.m. The film will also be available to stream on the PBS Video app.
About Indie Lens Pop-Up: Indie Lens Pop-Up is a neighborhood series that brings people together—virtually and in-person—for film screenings and community-driven conversations. Featuring documentaries seen on PBS's INDEPENDENT LENS, Indie Lens Pop-Up draws local residents, leaders, and organizations together to discuss what matters most, from newsworthy topics, to family and community relationships. Make friends, share stories, and join the conversation. For more information, visit pbs.org/independentlens/indie-lens-pop-up