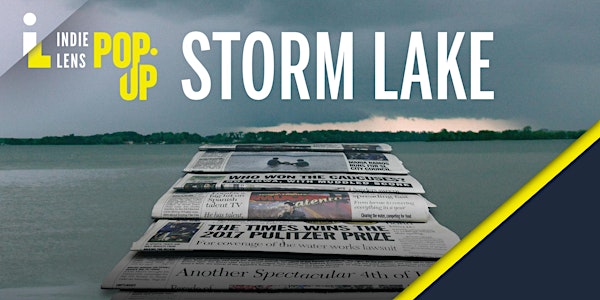 Indie Lens Pop-Up Presents: STORM LAKE
Indie Lens Pop-Up Presents: STORM LAKE
About this event
American democracy requires an informed citizenry. Can it survive without the backbone of independent local journalism?
Go inside The Storm Lake Times, a newspaper serving an Iowa town which has seen its fair share of changes in the 40 years since Big Agriculture came to the area. In Storm Lake, Pulitzer-winning editor Art Cullen and his family dedicate themselves to keeping the paper alive —come hell or pandemic.
Join audiences nationwide for a special Indie Lens Pop-Up interactive live chat and online screening of Storm Lake, featuring a post-screening panel with special guests:
Storm Lake filmmakers Jerry Risius and Beth Levison and veteran journalists Jennifer Preston and Penny Muse Abernathy will be sharing resources and anecdotes in the interactive chat.
The film screening will be open captioned, and the livestream Q&A will have ASL interpretation.
*******
About Storm Lake
Jerry Risius (Director & DP) and Beth Levison (Director & Producer)
Storm Lake, Iowa, has seen its fair share of changes in the 40 years since Big Agriculture came to town. Farmers blow their life savings on new equipment they hope will keep their livelihoods intact while migrant workers flock here, welcome and not, to achieve the American Dream. Corporate, political, and environmental forces—and even a global pandemic—threaten to overwhelm the already precarious existence of the people in Storm Lake. Nearly 2,000 local papers have shuttered in the last 20 years, a crisis accelerated by COVID-19. The stakes have been especially high for the Cullen family; they comprise half of The Times' 10-person team. Against tight deadlines and slimmer margins, the Cullens report on their town, and wonder how the paper will survive as readers cease to support journalism like they used to.
Storm Lake premieres on PBS's Independent Lens on November 15, 2021 at 10/9c. Learn more.
*******
This event is hosted by Indie Lens Pop-Up in collaboration with The Anderson Impact Center, Basin PBS, Bud Werner Memorial Library, Charitable Film Network, City of Mesa, Craig Newmark Graduate School of Journalism at CUNY, Franklin Pierce University - Marlin Fitzwater Center for Communication, Front Range Community College, Georgia Public Broadcasting, Global Peace Film Festival, Iowa PBS, Meaningful Movies Project, Milwaukee PBS, New American Economy, News Media Alliance, Panhandle PBS/KACV, PBS Hawaiʻi, Report for America, Solutions Journalism Network, Southern Illinois University, WMHT, WSIU Public Broadcasting, and Yale Film Archive.
With support from ITVS, the Corporation for Public Broadcasting, and PBS.
*******
Note for those joining from outside the U.S.: To ensure each show does not exceed its granted rights for streaming PBS content, PBS.org is subject to geo-filtering, which unfortunately eliminates international streaming ability for Storm Lake.
If you are joining from outside the U.S., please join us for the Q&A at 8pm ET.