Description
In support of World Interaction Design Day (IXDD), Adobe Systems and IxDASF present an evening devoted to the subject of inclusive design.
Every design decision has the potential to include or exclude customers. Inclusive design emphasizes the contribution that understanding user diversity makes to informing these decisions, and thus to including as many people as possible. User diversity covers variation in capabilities, needs and aspirations.
Come learn about methods and tools today's designers utilize to determine how well their products and services perform for universal audiences.
6:00PM -- Doors open -- Come early networking and refreshments generously provided by Adobe
7:00PM -- Talks begin
8:30PM -- Event ends
Khoi Vinh is principal designer at Adobe, overseeing the direction of Adobe's apps to make mobile a meaningful part of the creative process. In addition, Khoi writes the design, technology and culture blog, Subtraction.com, and is Design Chair at Wildcard. Previously, Khoi was design director for The New York Times and named one of Fast Company's fifty most influential designers in America in 2011.
Scott Belsky's primary focus is making Creative Cloud a creativity platform for all. As chief product officer and executive vice president, Creative Cloud, Scott leads product management and engineering for Creative Cloud products and services, Adobe Spark, and Behance, Adobe's community of 10 million creatives. Scott also oversees Adobe's Design team, which is responsible for experience design across all Adobe products. Scott is the author of Making Ideas Happen and has a second book coming out in the fall, The Messy Middle. @scottbelsky
Cordelia McGee-Tubb is a lead accessibility engineer on the Salesforce UX team and a technology tutor at her local senior center. When not digging through the DOM or chatting about inclusive design patterns, she can often be found drawing comics, circumambulating cities, and/or scouring the internet for silly hats. @cordeliadillon
Matt May is Adobe's head of inclusive design. His work includes integrating inclusive design practices across every aspect of the Adobe user experience, training and mentoring the Adobe Design team, and advocating principles of accessibility and inclusive design to the public at large. @mattmay
---
World Interaction Design Day is where we come together as a united global community to show how interaction design improves the human condition. Our aim is to have a positive, long-lasting impact by facilitating activities that support dialogue and outcomes. Presented in partnership with Adobe and IxDA, we welcome everyone to contribute by hosting activities for their local communities around this year's theme: Diversity and Inclusion in Design
All proceeds from this event will be donated to San Francisco's Inneract project. Inneract Project empowers underserved youth through design education and links them to opportunities to explore design in career and life.
No one will be turned away for lack of funds.
Organizer of Inclusive Design in Practice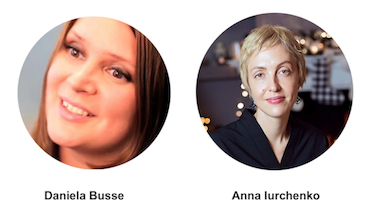 Daniela Busse and Anna Iurchenko lead the San Francisco Interaction Design Association.  IxDA SF is the San Francisco chapter of the global Interaction Design Association (IxDA), with a membership of over 100,000 world-wide. Serving a community of over 10,000 designers from around the Bay Area, IxDA SF hosts a wide range of design-focused and social events throughout the year. We partner with great companies to host talks and activities that move interaction design forward and enable practitioners to advance skills, while also providing a platform for members to add their voices to the larger conversation about design practice. Above all, we seek to curate the sharing of ideas, perspectives, and inspiration that help make us all better and more aware thinkers and designers.  Sign up to our newsletter by creating an account on http://ixdasf.org.