Event Information
Location
Sutardja Dai Hall - Banatao Auditorium
330 Sutardja Dai Hall
Berkeley, CA 94720
Description
Artificial Intelligence (AI), algorithms that enable machines and systems to automate decisions and processes, shape our daily lives. These largely hidden systems determine how data is gathered, analyzed, and presented directly to us or used to make decisions on our behalf. With rapid global urbanization, AI promises not only to drive progress and increase efficiencies within critical public service areas but also offers the potential to develop new markets and support economic growth. At the same time, AI can exacerbate negative effects when it reinforces social biases and inequalities--whether by design or unintentionally. Far from remaining a "virtual threat," the consequences of ill-considered algorithms can have damaging effects in the real world.
The Center for Information Technology Research in the Interest of Society (CITRIS) and the Banatao Institute and Microsoft will host a symposium dedicated to exploring the effects of AI-enabled technologies on labor, law enforcement, and public services. The symposium will highlight AI research and its implementation in the urban environment and will raise questions regarding effects of AI on cultural, social, political and economic inclusion. Leaders from academia, industry, and government will discuss the benefits and risks of AI-enabled technologies for labor markets and urban management, and how to promote development and application of AI while identifying and managing potential risks. CITRIS will present preliminary insights from a study of the role of AI-enabled technologies in urban environments.
Agenda
Speaker Bios: https://goo.gl/JpCn65
10:30 Registration
11:00 Welcoming Remarks: Camille Crittenden, Deputy Director, CITRIS and the Banatao Institute and Scott Mauvais, Director, Technology & Civic Innovation, Microsoft
11:15 Opening Keynote: Fei-Fei Li, Associate Professor and Director, Stanford AI Lab, Computer Science Dept, Stanford University
Introduced by Alexei Efros, Associate Professor, Electrical Engineering and Computer Sciences (EECS), UC Berkeley
12:00 Panel 1: AI-enabled Law Enforcement: Challenges and Opportunities
- Moderator: Jennifer Skeem, Associate Dean of Research & Mack Distinguished Professor, School of Social Welfare, UC Berkeley
- Mark Bergstrom, Executive Director, Pennsylvania Commission on Sentencing and Senior Lecturer in Sociology and Criminology, The Pennsylvania State University
- Sharad Goel, Assistant Professor, Dept. of Management Science & Engineering, Stanford University
- Jessica Saunders, Senior Criminologist, Rand Corporation
- Chris White, Principal Researcher & Partner, Microsoft
12:45 Lunch
1:15 Lunch Keynote: Brian Christian, Author of The Most Human Human (a Wall Street Journal bestseller and a New Yorker favorite book of the year) and co-author of Algorithms to Live By (MIT Technology Review best book of the year)
Introduced by Zvika Krieger, Co-Lead, Center for the Fourth Industrial Revolution, World Economic Forum
2:00 Panel 2: Cities of the Future: The Promise of AI-enabled Public Services
- Moderator: Brandie Nonnecke, Research & Development Manager, CITRIS and the Banatao Institute
- Mariko Davidson, Civic Partnerships Manager, Technology & Civic Engagement, Microsoft
- Megan Garcia, Senior Fellow & Director, New America CA
- Roberto Manduchi, Professor, Computer Engineering, UC Santa Cruz
2:45 Break
3:00 Panel 3: The Future of Work: Automation and Labor
This panel is dedicated to the late Hubert Dreyfus, Professor of Philosophy at UC Berkeley and renowned philosopher of the implications of AI
- Moderator: Ken Goldberg, Professor & Chair, Industrial Engineering and Operations Research Dept., UC Berkeley
- Brad DeLong, Professor of Economics & Chief Economist, Blum Center for Developing Economies, UC Berkeley
- James Manyika, Senior Partner, McKinsey & Company; Director, McKinsey Global Institute
- Costas Spanos, Director, CITRIS and the Banatao Institute; Professor, Electrical Engineering and Computer Sciences (EECS), UC Berkeley
- Laura Tyson, Faculty Director, Institute for Business & Social Impact, Haas School of Business, UC Berkeley
- John Zysman, Professor Emeritus, Political Science, UC Berkeley
3:45-4:30 Closing Keynote: Ryan Calo, Assistant Professor, School of Law, University of Washington
Introduced by Ken Goldberg, Professor & Chair, Industrial Engineering and Operations Research Dept., UC Berkeley
4:30 Closing Remarks: Camille Crittenden, Deputy Director, CITRIS and the Banatao Institute
4:45 Reception, Kvamme Atrium
Screening of 50/50
A special screening of 50/50, a documentary film detailing the 10,000 year history of women and power and where we are today, will be showing throughout the day in the CITRIS Tech Museum on May 10, 50/50 Day! We'll be joining thousands in a global conversation about what it will take to get to a more gender-balanced world in all sectors of society: business, politics, culture, home, and more. Led by Tiffany Shlain, Emmy-nominated filmmaker and founder of The Webby Awards and her team at Let it Ripple Film Studio, 50/50 Day is based on the model of their annual Character Day, which last year had over 93,000 events in 125 countries and all 50 states.

More info and resources for 50/50 Day available at http://www.letitripple.org/films/50-50/5050-day/
Admission includes lunch and reception.
If you have any questions, please contact Dr. Brandie Nonnecke (nonnecke@citris-uc.org)
Sponsors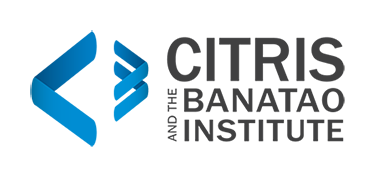 Date and time
Location
Sutardja Dai Hall - Banatao Auditorium
330 Sutardja Dai Hall
Berkeley, CA 94720