This virtual event focuses on how inclusive UX is being put into practice in real life from the lens of both academia and industry.
About this event
Companies are increasingly growing aware of unaddressed accessibility issues with their products and experts are exploring how inclusive UX can pave a new path forward. On Tuesday, October 26th, join industry leaders and expert researchers in engineering, mobility, tech, and public health as they share how they're putting inclusive UX into practice and making it a reality.
Whether you are new to the inclusive design space or have been interested in it for years, you will step away from this event with a deeper understanding of how industry and academic professionals are designing with every person in mind and how to apply this mindset to your own work.
Learn more about the speakers below.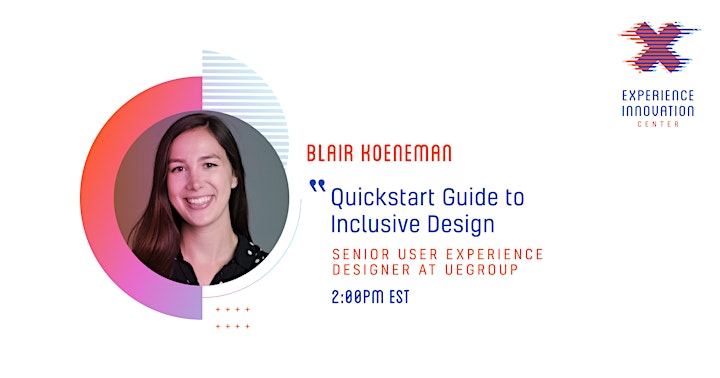 Blair Koeneman specializes in mission critical design as a Senior UX Designer at UEGroup. She works in various industries, including enterprise, cyber security, healthcare, and aerospace, giving her a wide range of fields to draw inspiration from. Over the years in her agency work, Blair has noticed the gaps that occur when tech companies are rapidly cranking out products without considering the needs of those who might be getting ignored in the process, such as the elderly, people with disabilities, and many other populations.
In her presentation entitled "Quickstart Guide to Inclusive Design", Blair will introduce the basics of Inclusive Design, how to start incorporating it into your process, and how to get your team on board. Along the way, she will provide her favorite tools and resources she's discovered to kickstart your journey.
Blair received her bachelor's degree in Engineering from Santa Clara University. Working at UEGroup, a small but mighty UX agency, for several years has allowed her to rise up to challenges and rapidly grow her design, research, and strategy skills. UEGroup delivers innovation and market leadership through world-class UX design and usability research services. UEGroup's expertise spans several industries including enterprise, consumer, and medical devices, and they've partnered with Disney, Dell, HP, WebEx, McAfee, Intel, Allergan, Food Network, HGTV and more.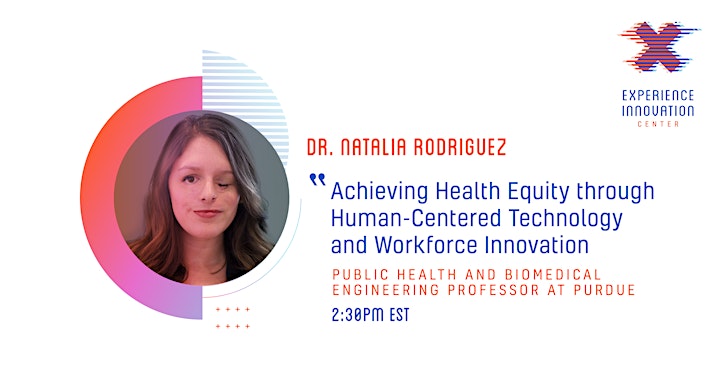 Dr. Natalia Rodriguez's research focuses on human-centered design and implementation of health technologies to achieve health equity. Her lab brings diverse stakeholders together, including members of traditionally underserved and underrepresented communities, to co-design innovative solutions to their unique health needs.
"Achieving Health Equity through Human-Centered Technology and Workforce Innovation" will touch on her lab's work focused on human-centered and community-engaged design and implementation of health technologies. She will share how the same ideas and approach used to design a rapid diagnostic test for cervical cancer screening in underserved LatinX communities is also being applied to mitigate COVID-19 impacts in a local community of people experiencing homelessness.
Dr. Rodriguez is an Assistant Professor at Purdue University in the Department of Public Health and the Weldon School of Biomedical Engineering, and the director of the Health Techquity Lab at Purdue. She earned B.S. degrees in Chemical Engineering and Biology from MIT, a PhD in Biomedical Engineering from Boston University, and an MPH in Global Health from the Harvard T. H. Chan School of Public Health. She completed her postdoctoral training at the World Health Organization in the Medical Devices Unit.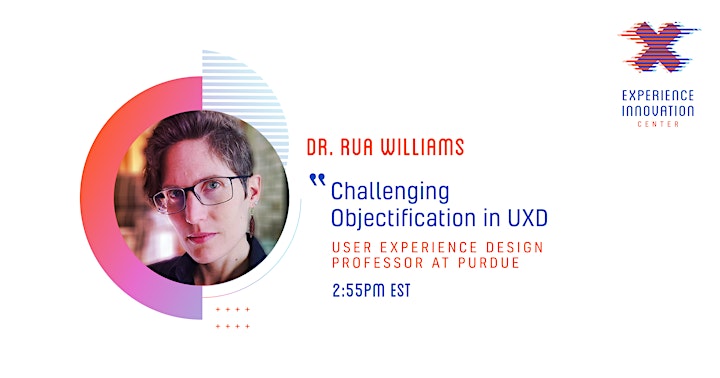 Dr. Rua M. Williams is an Assistant Professor of User Experience Design at Purdue, where their research focuses on access and equity issues in both industry and academia. Their work illustrates how practices meant to account for injustice in design may continue to produce inequities.
In "Challenging Objectification in UXD", Dr. Williams will be sharing the Design Justice Network's principles that guide more intentional design practices centering social justice. They will be sharing how UX professionals apply these principals to their work but are still missing key issues. They will also share design practices that challenge UX professionals' preconceptions of disability and provide connections to disabled communities of designers.
Dr. Williams earned their PhD in Human Centered Computing from the University of Florida's Computer and Information Sciences and Engineering Department. They were a student in Dr. Juan Gilbert's Human Experience Research Lab studying the interactions between Technology and Disability Justice. They have over 10 years of industry experience in video game development, system design, and 3D modeling and animation. They have also taught undergraduate level coursework in game design, 3D modeling, animation, and storytelling.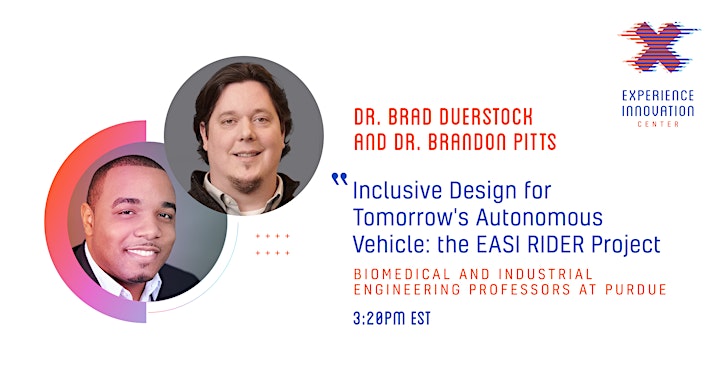 Dr. Brad Duerstock is a professor in both the school of Industrial Engineering and Biomedical Engineering at Purdue. His research focuses on overcoming functional impairments and challenges to inclusion faced by those with disabilities and the aging. Over the years, Dr. Duerstock has been awarded millions of dollars to carry out his accessibility-focused ideas and projects.
Dr. Brandon J. Pitts is an Assistant Professor in the School of Industrial Engineering and director of the NHanCE Lab at Purdue. His research focuses on how to ensure that next-generation technologies are designed for older adults and has been funded by several government and industry sponsors.
Dr. Duerstock and Dr. Pitts were semifinalists in the 2020 USDOT IDC competition and awarded $300,000 to take their product, the EASI RIDER, from idea to prototype. The EASI RIDER is a design solution giving people with disabilities the means to use autonomous vehicles. This solution is in response to the lack of reliable, accessible, and effortless transportation for people with disabilities. In "Inclusive Design for Tomorrow's Autonomous Vehicle: the EASI RIDER Project", Dr. Pitts and Dr. Duerstock will be sharing the details of the design of the EASI RIDER and how they're currently developing a life-sized, operational demonstration.
Dr. Duerstock received both his Bachelor of Engineering and PhD in Neurosciences from Purdue University. Dr. Pitts completed a B.S. in Industrial Engineering at Louisiana State University, and a M.S.E and Ph.D. in Industrial and Operations Engineering at the University of Michigan (UM), Ann Arbor, MI.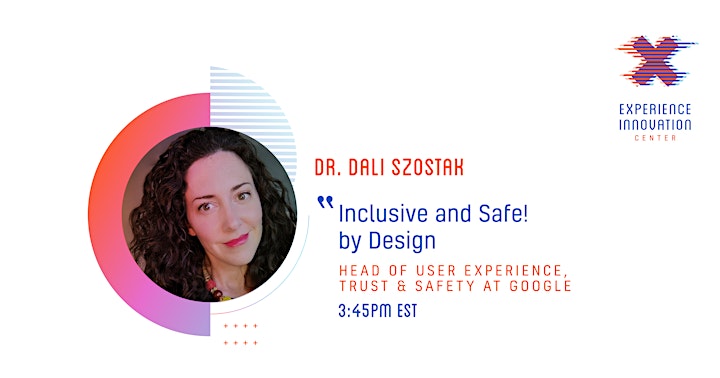 Dr. Dali Szostak is the Head of UX for Google Trust and Safety, where her team focuses on keeping people, especially those at-risk, safe on the internet. Internet users may face at-risk situations because of who they are (a minority), what they do (an activist or journalist), where they live (a conflict zone or abusive household), or what they share (someone who promotes a particular ideology on social media). Her team's work helps to prevent internet abuse and attacks and ensures an inclusive, safe, and positive experience for the user. She does this by meeting with frequently targeted groups to understand what these users need and how designers can help accommodate these needs.
"Inclusive and Safe! by Design" will present Google's inclusive design process. Google recognizes that it's difficult to consider every at-risk person in the design stage. Dr. Szostak will speak about the framework Google applies to their wide range of products and how it leads to a more inclusive product design.
Dr. Szostak received her Master of Science in Human Factors Engineering from Embry-Riddle Aeronautical University and her Professional Doctorate Degree in Engineering, User System Interaction from Eindhoven University of Technology. She has a track record of delivering purposeful digital products, helping people find their way (TomTom Go), staying connected with family and friends (Android and Project Fi) and being able to contribute to the open web while combating online harassment and disinformation (Assembler, Perspective API and Outline).
About Experience Innovation Center
This event is hosted by the XCenter; a center of excellence for user experience work bringing industry and academia together to reinvent how people and technology interact. XCenter is part of the Discovery Park District, directly adjacent to Purdue University, and aims to reimagine how we work, live, and play 5 to 8 years down the road. It helps organizations get there through inventive product design and UX innovation. Learn more https://www.xcenter.info/
Organizer of Inclusion and Accessibility: UX Put into Practice (Virtual Event)