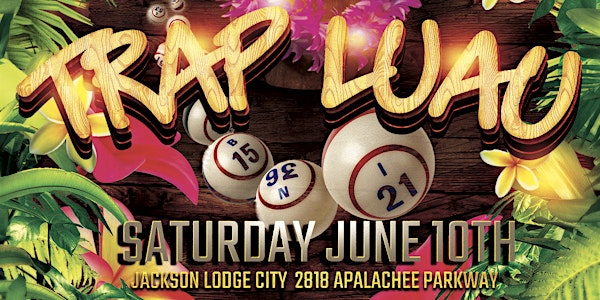 In the Trap!! TRAP LUAU!! A Twisted Party!!
Issa Twisted Party! Same goodness - we Party! we Play Trap! we Party some MOREEEEE! We in the LUAU! Get your LUAU outfits together!!!
Date and time
Starts on Saturday, June 10 · 9pm EDT
Location
Jackson Lodge 2818 Apalachee Parkway Tallahassee, FL 32301
About this event
Come Enjoy the Experience and Kickoff Your Spring Fling with US!
A Twisted Party! TRAP LUAU!
We bout to have a LUAU good time! Ladies & Gents get those TROPICAL LUAU fits together! - but not required! You only required to have a GREAT TIME!
GET READY TO NAME THAT TUNE! - We call it Trap!
What's the Twist? - It's a Party twisted with Trap!
This is a Grown & Sexy Affair.DJ A to the L on the Ones and Twos.
A Fun Night Filled with a Party!! Food ~ Play ~ a Party ~ Drinks ~ and more Party
Admission Includes 1Trap Card
Additional Trap Cards are 1 for $3 or 2 for $5 | Prizes for all rounds!
Bring your Friends for a Reserved or VIP table:
* Share a Table (Reserved in Groups of 4);
* VIP Tables (up to 10)
Individual Tickets:
* General Admission
Can't Wait to Get Twisted with You! We Party for a Purpose and on Purpose!
Contact Info: email ABChillProduction@gmail.com or call 8503208447