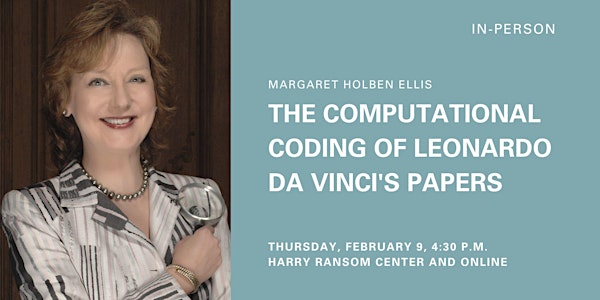 IN-PERSON: The Computational Coding of Leonardo da Vinci's Papers
Introducing the LEOcode Project
When and where
Location
Harry Ransom Center 300 West 21st Street Austin, TX 78712
About this event
At the time that Leonardo da Vinci (1452-1519) was working, all paper was formed one sheet at a time from an individually handcrafted screen-like mold. A unique internal pattern, much like a fingerprint, is found in every sheet that mirrors three features of its corresponding mold: the watermark, chain line intervals, and laid line densities. Using pattern recognition software, these patterns can be computationally "coded" and then compared and matched with other papers.
Paper conservation expert Margaret [Peggy] Holben Ellis will talk about exciting discoveries stemming from the LEOcode project and how the process has significantly narrowed speculation regarding the date and place of origin of the papers Leonardo da Vinci used in his works and identified tantalizing affinities between now-separated sheets.
Seating is limited, please RSVP. Please note that a reservation does not guarantee a seat. Seats not claimed by 3:50 p.m. may be released. NOTE: Please sign up here to watch the program online.
Doors open | 4:00 p.m.
Program | 4:30 p.m., Prothro Theater, Ransom Center
Questions? Please email us or call 512-471-8944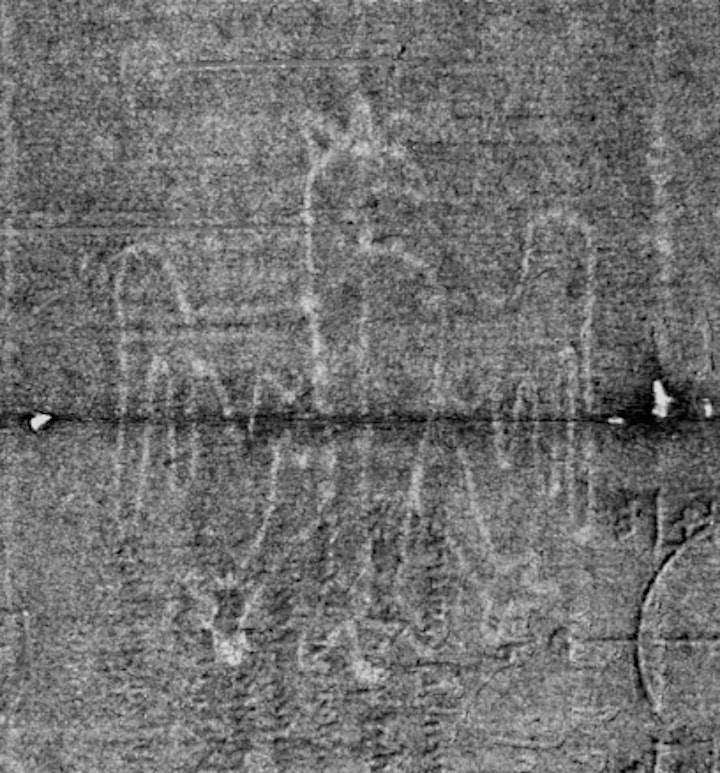 Image: Overlay of Eagle cross-codex moldmates Leicester Sheet 3 and Arundel ff. 66-67 from Leocode.org.
ABOUT THE SPEAKER
Margaret [Peggy] Holben Ellis is the Eugene Thaw Professor Emerita of Paper Conservation at the Institute of Fine Arts, New York University, where she taught the conservation treatment of prints and drawings and technical connoisseurship for art historians. She is currently a Fellow at the Menil Drawing Institute, Houston.
ABOUT LEOCODE
LEOcode is a computational approach to enhancing, measuring, comparing, and matching the papers of Leonardo da Vinci through the detailed encoding and visualization of their internal manufactured patterns including watermarks, chain line intervals, and laid line densities.
The notebooks—codices—of Leonardo da Vinci (1452–1519) have long been the focus of scholarly study spanning many intellectual disciplines. Neglected, separated, dispersed, and recombined after his death, Leonardo's 4,000+ extant sheets of notes, observations, and drawings present a fascinating puzzle for scholars who strive to recreate their original formats and sequence or simply to better understand the materials and processes behind their fabrication.[1] Concerted efforts have been made to reorder folios and gatherings, propose original collation charts, virtually reintegrate pirated drawings, establish chronology via datable events cited by Leonardo, and cross-reference sheets based upon their subject matter or continuity of discourse.[2]
Tangible traces of material, facture, and function have also been considered when proposing virtual reordering of the codices, the so-called "archaeological" approach. Physical evidence that has been painstakingly recorded by scholars includes page layouts, paleographic oddities, offset writing inks, red chalk transfers, fold lines, water and adhesive stains, sewing holes, remnants of blue cartonnage, indentations from drafting tools, and the determination of original paper formats. Watermark identification, using standard compendia such as Briquet, has promised tantalizing, if problematic, clues for questions of dating and geographic origins.[3] In addition to the endless mining of textual information, interest in materials and techniques remains strong among Leonardo scholars.[4]
In support of this foundational textual and material research, we have computationally "coded" the watermarked papers found in the Codex Arundel (MS 263, British Library) and the Codex Leicester (Gates Collection) through the application of programs that enhance, measure, compare, and match their watermarks and chain line intervals.