[In-person event] Soil Health Summer Workshop Series- Workshop 2
Workshop #2: How to monitor, assess and set soil health goals on your farm
About this event
This four-part workshop series will provide participants with a solid understanding of how farmers in Hawaii can better manage the health and functionality of their soil as a pathway to improving their operation and regenerating on-farm ecosystem services. To view all workshops within the series, please visit our website.
Workshop 2 (June 8th): How to monitor, assess and set soil health goals on your farm. *This in-person workshop is limited to 25 people, so please email us if you are not able to make it so we can offer your space to someone else.
This on-farm workshop will help you:
Understand the difference between testing for the needs of soil nutrients versus soil health;
Know how to collect and submit a sample for soil health testing;
Learn in-field techniques to test soil health using the NRCS In-Field Soil Health Assessment Guide;
Be able to assess and relate soil health characteristics with observed management concerns such as compacted soil and poor water infiltration;
Be able to access and use our WFN Regenerative Agriculture Assessment Tool to develop a custom list of 'Soil Health Goals' based on resource concerns for your farm.
Details:
We kindly ask that everyone arrive promptly by 8:45am. We will all meet at the yellow gate entrance for Hua Orchard. The gates are located where Kaukaonahua Road meetings Farrington Hwy. This is now a four-way stop, known as "Thompsons's Corner'. We'll have a staff member at the gate to greet you. (the gate has a sign on it stating "Goats for Sale"). All cars will wait inside the gate until our full party has arrived. The gates will be closed by 8:55am.I've attached a Google map (aerial and street view also provided).
There will be no restroom facility on the farm. Please plan for this ahead of time. Please bring your own water bottle, personal snack and attire for a workday in the sun. Although not required, it would be helpful if you can bring your own gloves, shovel, 5 gallon-bucket and chair. A small amount of chairs will be provided to accommodate those who need to be seated.
We will be following COVID-19 social distancing protocols for this event. If you are unable to wear a mask, we can accommodate you for future events. We will be following "Breakroom & conference Rooms" guidelines.
We'll also kindly ask that you sign our liability waiver and photo release upon arrival. We will be filming this so we can share some of our day with a larger audience (especially since we had to limit the number of attendees to follow COVID policy and for our neighbor islands who are not able to attend). Also, we have a few spots open from people who had to cancel at the last minute. Those who attend all four workshops will qualify to win raffle prizes from our sponsors, including:
$100 gift certificate to Moku Kitchen
Cover crop seeds from Ko'olau Seed & Supply
Gear from Patagonia
Microbial inoculants from EM Hawaii
Microbial test kit from SolVita
If you'd like a little homework prior to attending our workshop, please see the NRCS In-Field Soil Assessment Guide on our website to familiarize yourself with some of the work we'll be diving into and demoing tomorrow. If you want to provide yourself with more of a foundation in soil health, you can also view our workshop from last week on WFN webpage.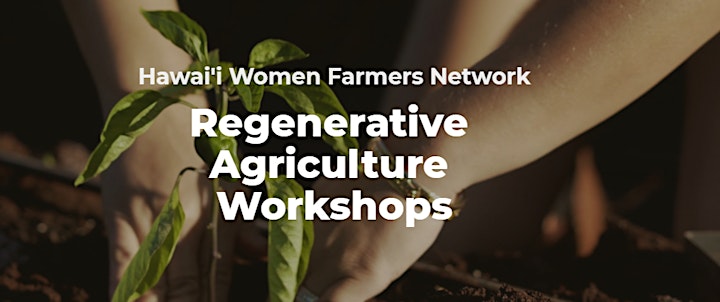 Organizer of [In-person event] Soil Health Summer Workshop Series- Workshop 2