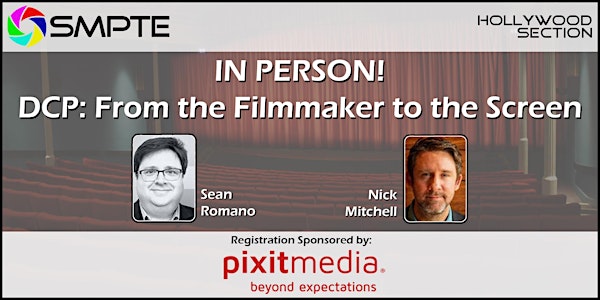 IN PERSON! DCP: From the Filmmaker to the Screen
SMPTE Hollywood will explore the digital cinema package (DCP) at an in-person meeting at the Linwood Dunn Theatre in Hollywood.
By SMPTE Hollywood Section
Date and time
Starts on Wednesday, April 13, 2022 · 6:30pm PDT
Location
Academy of Motion Picture Arts & Sciences Linwood Dunn Theater 1313 Vine Street Los Angeles, CA 90028
About this event
SMPTE Hollywood will explore the digital cinema package (DCP) and its role in getting movies to the theater at its April in-person meeting. A pair of experts in feature film mastering will explain the varying components of DCPs, best practices in preparing them and new ways of delivering them to movie theaters. They will provide valuable insights into this complex but essential subject useful to professionals involved in every stage of the production cycle.
SMPTE Hollywood's first in-person meeting since the beginning of the pandemic, the event will occur on Wednesday, April 13th at the Academy of Motion Picture Arts & Sciences' Linwood Dunn Theatre in Hollywood. (Details below.)
DCP has been the standard format for the delivery of films to theaters since the advent of digital cinema. For years, DCPs were shipped to theaters on hard drives, but today there is a move to deliver via satellites or the internet. The contents of DCPs vary considerably, based on such requirements as display format, foreign languages and subtitling. They also involve precise technical specifications for encoding, security and other details. Panelists Sean Romano, senior vice president of operations at Eikon Group, Burbank, and Nick Mitchell, chief technical officer at WildAcre Company, will discuss these issues and more in an information-packed session that's not to be missed.
Panelists
Sean Romano, senior vice president of operations at Eikon Group, Burbank, is a longtime veteran of the Hollywood post-production community. He first experience in digital cinema came on an early digital release of Jurassic Park III. In 2006, he joined Deluxe Film Labs to work in the burgeoning field of digital cinema. Thirteen years later, he joined Eikon Group, a global leader in digital mastering and localization for the entertainment industry.
Nick Mitchell is chief technical officer and principal of WildAcre Company, a consulting and creative services firm. His background includes 13 years as Technicolor, most recently as vice president of immersive technology and earlier as vice president of mastering services at Technicolor Digital Cinema. In the latter role, he mastered thousands of DCPs and implemented many DCP mastering, distribution technologies and workflows still in use at Technicolor today.
The event is produced by Bill Hogan.
Doors open at 6:30 p.m. The program starts at 7:30 p.m.
Due to Covid restrictions no food or refreshments will be served. Please grab a bite before the event.
Where: Academy of Motion Picture Arts & Sciences, Linwood Dunn Theatre, 1313 Vine St, Los Angeles, CA 90028
AMPAS Linwood Dunn Theatre COVID Protocols
Maintaining health and safety protocols is critical to providing a safe environment for visitors and staff. The following policies are in place to keep you and our staff safe:
• Proof of Full Vaccination OR Negative COVID-19 PCR Test – In order to attend this event, guests must show proof of full vaccination OR a negative COVID-19 test which was taken within 72 hours before arrival. A person is considered fully vaccinated against COVID-19 at least 14 days after receiving their second dose in a two-dose series (Pfizer-BioNTech or Moderna) or at least 14 days after receiving their single dose of the Janssen (Johnson & Johnson) vaccine. Digital vaccine records or physical vaccine cards are acceptable proof. Guests will also need to show a picture ID in association with their vaccination or test details.
• Face Masks – Out of an abundance of caution, face masks are required, regardless of vaccination status. Masks must be worn at all times. Masks must cover the nose and mouth completely, and must not have any exhalation valves, vents, or holes of any kind. Acceptable masks include medical grade surgical masks, KN95, N95, and KF94 masks. Cloth masks are not permitted. Masks will be provided at the door upon request.
• Symptom Check – Guests are required to undergo a verbal COVID-19 symptom check prior to entry. Visitors who are feeling sick or are experiencing COVID-19 symptoms (such as cough, shortness of breath, difficulty breathing, fever, chills, or any other symptoms), or who have had contact with anyone confirmed or suspected of having COVID-19, should stay home, regardless of vaccination status. Please note that visitors displaying COVID-19 symptoms will not be allowed to enter.
• Limited Capacity – There will be limited capacity in the lobby and inside the theater to allow for distancing.
• Risk – An inherent risk of exposure to COVID-19 exists in any public place where people are present. The Academy follows all applicable public health orders and guidance, but by visiting, you voluntarily assume all risks related to exposure to COVID-19.
• Visitor Conduct – All visitors are required to follow the Academy's policies. Abusive, harassing, discriminatory, or threatening statements or behavior toward Academy staff will not be tolerated.
As always, SMPTE Hollywood meetings are free and open to all, even non-members.
Sign up to be notified about future SMPTE Hollywood Events: