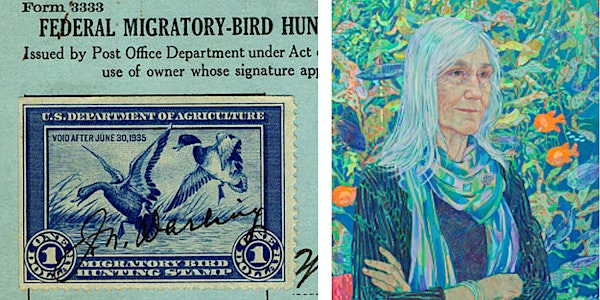 In Dialogue: Smithsonian Objects and Social Justice
How do ongoing environmental efforts inspire us to engage and take action in our communities and beyond?
About this event
Heighten your civic awareness through conversations about art, history and material culture. Each month, educators from the National Portrait Gallery will partner with colleagues from across the Smithsonian to discuss how historical objects from their respective collections speak to today's social justice issues. How do ongoing environmental efforts inspire us to engage and take action in our communities and beyond? Together with our co-hosts from the National Postal Museum, we will explore this key question in relationship to a 1934 stamp from the Federal Duck Stamp Program and a 2019 portrait of marine biologist Julie Packard by the artist Hope Gangloff.
The Zoom link will be emailed to registered participants via Eventbrite 12-24 hours in advance of the program. Each participant must register separately. We will only allow participants into the meeting if their names (and email addresses) are on the registration list.
The Portrait Gallery strives to provide programs that are accessible to all visitors. Real-time captioning (CART) will be provided for this program. If you have questions about the accessibility of this program or need to request additional accommodations, please contact Vanessa Jones at jonesve@si.edu. Two weeks advance notice is appreciated for requesting additional accommodations.
In order to register and participate in this program, you must be 18 or older, or be accompanied by a parent/guardian.
For general inquires please contact npgeducation@si.edu.
Never want to miss a Portrait Gallery program? Stay connected by signing up for our monthly newsletter to receive updates about similar programs and events! Click here.
Image Credit: LEFT: 1934 Form 3333 with first hunting permit stamp ever sold (detail), 1934. Gift of Jeanette Cantrell Rudy. National Postal Museum, Smithsonian Institution. RIGHT: Julie Packard (detail) by Hope Gangloff, 2019. National Portrait Gallery, Smithsonian Institution; funded by the Monterey Bay Aquarium Board of Trustees. © Hope Gangloff.