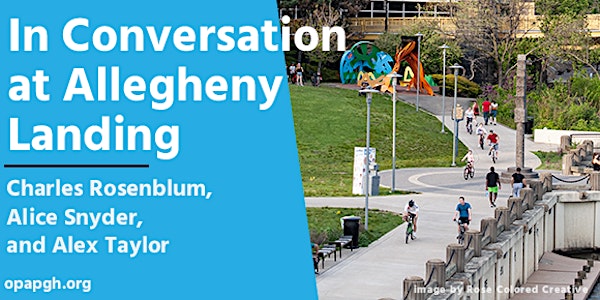 In Conversation at Allegheny Landing
An exploration of the public art and civic design legacy of this unique riverfront park.
When and where
Location
Allegheny Landing 12 Federal Street Pittsburgh, PA 15212
About this event
The Office for Public Art, in collaboration with Riverlife, will host In Conversation at Allegheny Landing, an exploration of the public art and civic design legacy of this unique riverfront park. The event will feature a tour of Allegheny Landing and its sculpture park, and a moderated conversation between architectural historian Charles Rosenblum, art consultant Alice Snyder, and art historian Alex Taylor. Snyder was the lead consultant for the commissioning of four artworks sited at Allegheny Landing's sculpture park in the 1980s. Rosenblum's, Snyder's, and Taylor's conversation will focus on the history, development, and future of the park and its sculptures. A light breakfast will be served.
About the Speakers
Charles Rosenblum
Charles Rosenblum is a journalist, critic, and scholar writing about architecture, art and other aspects of visual culture. As an academic, he taught history and theory of architecture and art at Carnegie Mellon University for twenty years. As a writer, he has won awards for his regular work in the Pittsburgh City Paper and Pittsburgh Quarterly. He has also written for national outlets including Architectural Record, Architects' Newspaper, Preservation, and the Frank Lloyd Wright Quarterly. His interest in public art began with academic study in the 1980s and published essays in the early 1990s in publications including the New Art Examiner and Public Art Review.
Alice Snyder
From 1975 - 1977, Alice R. Snyder produced Sculpturescape for the Three Rivers Arts Festival, bringing four nationally known sculptors to Pittsburgh to work alongside local industry. These sculptures were permanently placed in the urban landscape and initiated her career.
In 1975 Alice R. Snyder Art Services was established which coordinated public art projects, corporate and residential art collections, portrait commissions and special events both locally and nationally. She placed 13 public art sculptures in Pittsburgh including Allegheny Landing sculpture park. As an advocate for the arts, she co-founded and served as first President of Sweetwater Art Center, Sewickley, Pa, curated a sculpture exhibition for Governor Thornburgh's inauguration and continued sculpture exhibitions in Governor's mansion garden through 1986. She serves on the board of several art institutions. Snyder holds a B.A. in art history and studio arts from the University of North Carolina, Chapel Hill, N.C.
Alex Taylor
Alex J. Taylor is an Associate Professor in the Department of History of Art and Architecture at the University of Pittsburgh. He is the author of Forms of Persuasion: Art and Corporate Image in the 1960s (University of California Press), the first dedicated history of corporate patronage in post-war art. Before moving to Pittsburgh, Taylor led a research initiative on American art at the Tate, encompassing scholarly publications, symposia, and gallery displays. He received his doctorate from the University of Oxford, and spent his early career working in museums and galleries in Australia.
Registration
This event is free and open to the public; advanced registration is encouraged. Light breakfast refreshments will be served.
Registrants will be notified two hours in advance if this event will be postponed due to rain.
Directions and Parking
Allegheny Landing Park is located on the North Shore of Pittsburgh. The park is a short walk from the Andy Warhol Museum. The entrance to the park is accessible via Isabella Street.
Paid public parking is available at the North Shore Garage located across W. General Robinson Street from the Andy Warhol Museum. To view other parking options in the vicinity, please click HERE.
If taking public transportation, there is a Pittsburgh Regional Transit stop located at the corner of Sandusky and Isabella Street that serves routes 1, 2, 4, 6, 7, 8, 11, 12, 13, 15, 16, 17, O5, and P13. If taking the light rail system, the North Side station is located a few blocks away. For maps and more transit information, please click HERE.
Accessibility Information
Allegheny Landing park is wheelchair accessible. For additional accessibility accommodations, please contact the Office for Public Art at info@opapgh.org.