Actions and Detail Panel
In-Building Wireless Tech Seminar + Networking at The Museum of Flight
Wed, February 8, 2017, 9:00 AM – 9:30 PM PST
Description
Seminar Tickets Are SOLD OUT! - We have only Networking Reception tickets available.
What, When and Where?
DASpedia is hosting a regional, in-building wireless technology seminar and networking event on Feb 8, 2017 at The Museum of Flight in Seattle,WA. This is a convenient location for local enterprise-level customers interested in learning about in-building wireless technology and networking with industry professionals. The event will be held between 9:00 am and 9:30 pm.
Event Agenda
9:00 am – 12:00 pm The NW Aeroclub Room

Closed Session & Breakfast for Seattle/King County Principal BOMA members only. Fundamentals of In-Building Wireless Technology DAS and Public Safety DAS 101 (Seattle/King County BOMA members will receive 3 clock hours by attending this closed session)
12:00 pm – 1:00 pm Skyline Room

Networking Seated Luncheon /Vendor Hour - Lunch menu includes Salad, Grilled Top Sirloin & Grilled Salmon combo plate and Tres Leches desert (Open to General Admission Attendees & BOMA principal members)
1:00 pm – 1:15 pm Skyline Room

General Sessions Begin & Opening Remarks by DASpedia (event is hosted by Tony Schaffer from JMA Wireless)
1:15 pm – 1:45 pm Skyline Room

Headline Speaker: Seth Buechley from Priority RF – "Wireless Trends Impacting Building Owners & Mandated Public Safety Coverage"
1:50 pm – 2:25 pm Skyline Room

Chris Vargas from Boingo Wireless - "Plan, Design, Build & Manage: the Four Step Guide to Successful Indoor DAS Deployments"
2:30 pm – 2:50 pm Skyline Room

Charles Cordova/Assistant Chief & Fire Marshall from City of Seattle – "Public Safety In-Building Fire Code"
2:50 pm – 3:15 pm Skyline Room

Networking/Vendor Break & Museum Tour
3:20 pm – 3:45 pm Skyline Room

Brandon Braunlich from T-Mobile – "Small Cell vs MiMO"
3:50 pm – 4:15 pm Skyline Room

Fred Weisbrod from Verizon Wireless – "Working with Verizon to deploy In-Building Wireless System at your Venue"
4:20 pm – 5:00 pm Skyline Room - Enterprise Panel Discussion moderated by Mike Rosato from GIANT Solutions

David Wilson – Chief Aviation Technologist from Seattle-Tacoma International Airport and Port of Seattle
Kim Bedier – Director of Venues & Events from City of Tacoma
Harold Sheley – Technical Program/Project Manager Consultant with Microsoft

Sgt. Sean Whitcomb – Public Affairs from Seattle Police Dept
5:00 pm – 9:30 pm The Personal Courage Wing (WWII gallery)

Networking/Vendor Reception & Dinner includes New York Striploin & Northwest Cedar Plank Salmon Carving Stations & Tray Passed Delicacies with 2 drinks tickets for beer/wine. (Open to all Attendees)


Our Speakers and Panelists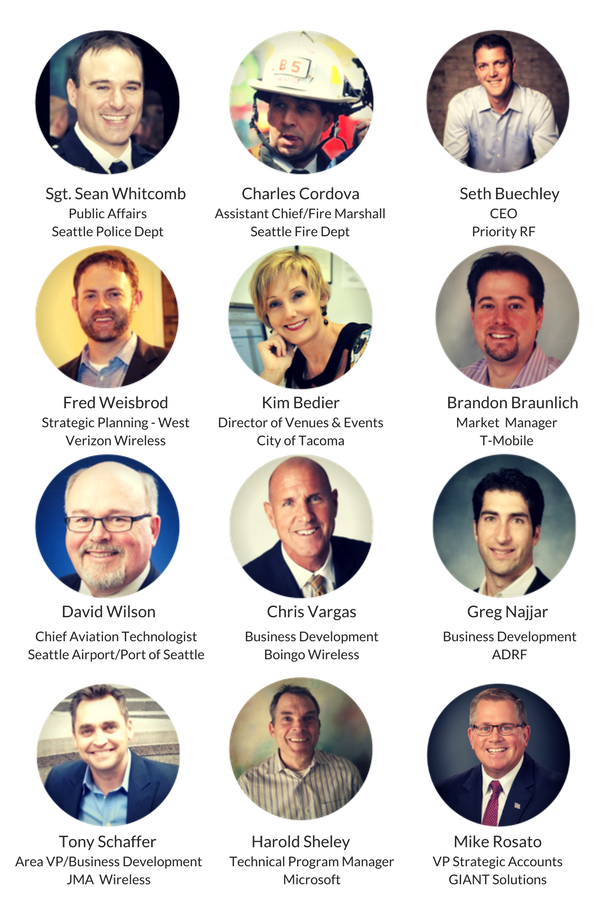 Who Are Our Attendees?
We're expecting almost 200 attendees. The attendee list will include principal members of BOMA Seattle/King County, enterprise level customers and wireless professionals from Seattle and surrounding areas. Representatives from each organization are interested in wireless technology and are involved in solving wireless coverage issues in their respective organizations to at least some degree. Attendee lists from our past events are available to download and please click here.
All major wireless carriers will be represented as well. We will have confirmed attendees from Verizon Wireless, AT&T, Sprint and T-Mobile.
Why Should You Attend?
Local networking and educational events are a highly effective method for professionals to interact with their peers and make new connections. Verticals represented at this event will be very diverse. We will have attendees from Defense, Education, Hospitality, IT, Wireless, Telecommunications, Wireless, and Commercial Real Estate. If you're in Pacific Northwest, interested in meeting new professionals or exploring new opportunities. Our past attendee list is available to download from here.


Are you a Seattle/King County BOMA or BICSI member?
Our seminar was submitted to the Department of Licencing Real Estate for clock hours. Approved seminars/classes meet renewal requirements for those with Real Estate Licenses. You're elibile to earn 3 clock hours by attending DASpedia's seminar. All BICSI members are eligible to receive 5 CECs.
Sponsor Opportunities
A few sponsorship opportunities are still available. If your company is targeting Western US market, interested in meeting new professionals or exploring new opportunities, then this is a must attend event. Our sponsor prospectus is available to download from here. Please send your sponsor inquiries to info@daspedia.com
Frequently Asked Questions
Is my registration/ticket transferrable?
Yes, you may ask us to transfer your tickets.
Can I update my registration information?
Yes
Do I have to bring my printed ticket to the event?
No, we will have pre-printed badges waiting for you.
What is the refund policy?
Tickets are not refundable.
Our Sponsors and Partners