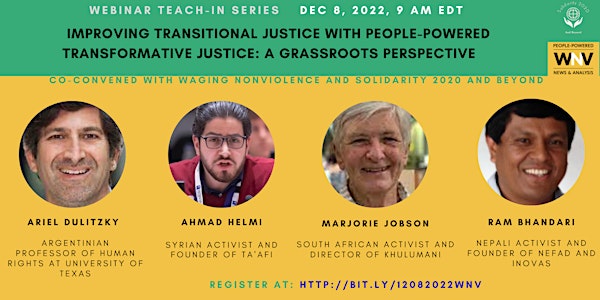 Improving Transitional Justice with People-Powered Transformative Justice
Grassroots Organizing With Victims/Survivors of Human Rights Abuses--moving from transitional justice to a transformative justice frame
Refund Policy
Contact the organizer to request a refund.
Eventbrite's fee is nonrefundable.
About this event
This webinar is composed of frontline conflict victims/survivors from South Africa, Nepal and Syria working for transitional and transformative justice in their own countries. The panelists are founding members of the International Network of Victims and Survivors (INOVAS), a global solidarity network for victims and survivors of violent conflicts and human rights abuses. One of the network's main objectives is to connect and empower victims and survivors to take the lead in advocating and mobilizing for their rights through direct participation with various national, regional and international mechanisms and processes.
To accomplish this, they build grassroots campaigns and movements led by those directly impacted by violence and oppression to strengthen their claims, ensure participation, and gain real agency in their communities, instead of letting other actors dominate and define their needs and aspirations. This turns conventional, top-down transitional justice efforts into people-powered transformative justice.
Please join this interactive webinar to learn more about this important form of grassroots activism, the challenges and obstacles they face, and the strategies and tactics used by victims and survivors to overcome these obstacles and foster justice and accountability in their countries.
Moderator:
Ariel Dulitzky, Argentina, is a former Chair of the UN Working Group on Enforced or Involuntary Disappearance, and an International Human Rights Lawyer from Argentina, whose relatives were disappeared during Argentina's dirty war. Currently he serves as Director of the Human Rights Clinic, School of Law, University of Texas at Austin.
Panelists:
Ahmad Helmi, Syria, is a former political prisoner for nonviolent activism, who went on to found the grassroots organization Ta'afi (Recovery) in 2017 to build power with other Syrian victims and survivors of torture and enforced disappearance and to advocate for Syrian detainees at the international level. Ta'afi's team adopts the philosophy that those who are most affected by detention, torture and enforced disappearance should be at the forefront of making the changes. Therefore, Ta'afi is focused on prisoners of conscience and detainees and is led by their experiences, voices, and ambitions for a human rights-respecting Syria.
Marjorie Jobson, South Africa, is a long-time anti-apartheid activist who was named the director of the Khulumani Support Group in South Africa in 2006. Khulumani (Speak Out) was founded in 1995 ahead of the formation of South Africa's Truth and Reconciliation Commission with the objective of facilitating victims' access to transitional justice processes and it continues to advocate for justice and accountability through the grassroots efforts of more than 100,000 victims and survivors of apartheid-era political violence and gross human rights violations.
Ram Bhandari, Nepal, is a long-time nonviolent activist whose family suffered violence and persecution during the armed conflict between Nepal's former Maoist insurgency and the repressive monarchy. Post-conflict, he organized the Network of Families of the Disappeared (NEFAD), as well as the Committee for Social Justice, the Conflict Victims' Common Platform for Transitional Justice, and the Conflict Victims National Alliance. He has also led petitions to the UN Human Rights Committee and UN Human Rights Council, the UN Working Group on Enforced and Involuntary Disappearances, and the Nepali Supreme Court.
BACKGROUND READING FOR WEBINAR
For more about moving from transitional to transformative justice, read this article by Paul Gready and Simon Robins from The International Journal of Transitional Justice, Vol. 8, 2014, 339–361.
ALL PROCEEDS GO TO THE SPONSORING ORGANIZATIONS