Improving Pregnancy and Neonatal Outcomes by Targeting Inflammation and Hyp...
Description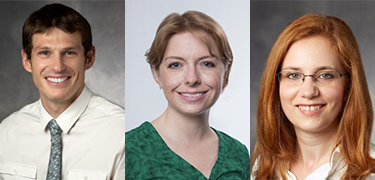 Improving Pregnancy and Neonatal Outcomes by Targeting Inflammation and Hypoxia
Premature births are the leading cause of newborn deaths in the U.S., where one in eight is born prematurely. Current research is aimed at understanding the challenges of preterm birth and identifying predictive factors of premature delivery and improving the long-term outcomes in survivors of prematurity.
Dysregulated immunity and hypoxic events are at the heart of all of the major causes of morbidity and mortality in premature neonates. Despite its central importance, a comprehensive understanding of the unique dynamics of this fragile, developing system has yet to be described. Stanford researchers are now focusing on comprehensively understanding the contribution of gestational age to both phenotype and function of the immune system at the time of birth and the pathophysiological mechanisms underlying brain injury and poor neurodevelopmenatal outcomes following preterm birth. The overall goal of this research is to identify preventative and therapeutic strategies for this vulnerable patient population.
In these talks, Drs. Brice Gaudilliere and Laura Peterson will discuss the immune system dynamics in normal and pathological pregnancies and deep immune profiling of the neonatal immune system. Dr. Anca Pasca will discuss the impact of hypoxic events on the brain development of extremely preterm infants, by using functional human brain tissue derived from pluripotent stem cells in vitro.
ABOUT THE SPEAKERS
Brice Gaudilliere, MD, PhD - Dr. Gaudilliere is an Assistant Professor at Stanford University. His research group combines high parameter mass cytometry with other proteomics approaches and advanced bio-computational methods to study how the human immune system responds and adapts to acute physiological perturbations. Ongoing studies in the Gaudilliere lab focus on several clinical scenarios including 1) pregnancy and preterm birth, 2) surgical recovery and traumatic injury, 3) neurocognitive recovery after stroke.
Laura S. Peterson, MD - Dr. Peterson is a clinical fellow in Neonatology with an interest in perinatal immunology, and in particular the immune system of premature newborns. She currently splits her time between the Neonatal Intensive Care Unit at Lucille Packard Children's Hospital Stanford and Dr. Brice Gaudilliere's lab. Before moving to the Bay Area, she was in Ann Arbor, MI where she did her Pediatric Residency at the University of Michigan C.S. Mott Children's Hospital. She did her medical school studies at Vanderbilt University in Nashville, TN after finishing a Bachelor of Science degree in Biophysics from Brown University.
Anca M. Pasca, MD - Dr. Pasca is an Assistant Professor in the Department of Pediatrics, Division of Neonatology at Stanford University. Her research focus is on understanding the molecular mechanisms underlying neurodevelopmental disorders associated with fetal brain injury in high-risk pregnancies and postnatal injury following premature birth. Her research team is using a powerful 3D platform for deriving functional human brain tissue in vitro and employs a multidisciplinary approach involving genetics, molecular and developmental neurobiology to advance our understanding of human brain development and disease, with the long-term goal of translating the lab's findings into therapeutics.
---
The MCHRI Seminar Series highlight compelling clinical topics, innovative research, and the latest developments in maternal and child health. The series provides a unique platform for engaging in conversations and collaborating with other researchers across the community.
The seminars series is open to all, including faculty, staff, trainees, postdocs, and all members of the research community. Seats are limited, and reservation is required. Limited lunch will be provided on a first come, first served basis. Attendees are welcome to bring their lunch to the event.
Check out more MCHRI Seminar Series!
Questions about registration? Please contact Roxanna Van Norman.