Improve Your Website Page Speed & Performance (JavaScriptLA & GA)
Description
Ugh! 5 seconds and the page still hasn't finished loading and the user is moving on, don't let this happen to the sites you develop.
Learn how to improve your site's web performance, track progress, rank higher in search engines, lower bounce rates, as well as the new best practices with HTTP/2.
Bring value to your team or clients, you don't even have to be a Javascript Expert!
Beginner and advanced developers alike can makes changes to decrease page load times.
We'll cover topics such as when to use Javascript vs jQuery, how to use monitoring and tracking tools, and much more.

Featuring JavaScriptLA Member:
Catherine Kim
Front End Web Developer at Blue Shield
17 years experience with web development
About JavaScriptLA & CodeHeart <3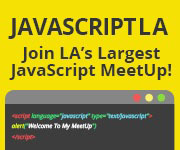 JavaScriptLA (http://meetup.com/javascriptla) is a meetup group in Los Angeles with more than 1600 members who are active and interested in learning JavaScript web programming! If you are interested in becoming a web developer, especially in learning and using technologies like AngularJS, NodeJS, React and more-- become a part of our group today!
#Join JavaScriptLA On Slack: http://javascriptla.herokuapp.com (online chat channel for all your JavaScript questions)