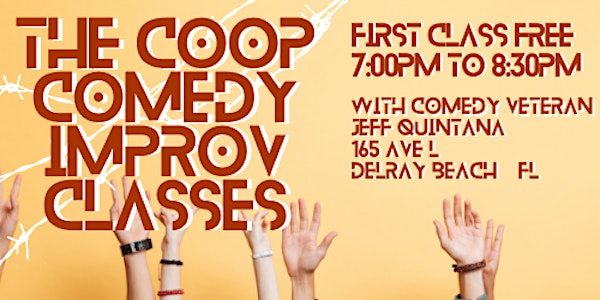 Improv Comedy Drop In Classes At The Coop
A class for people of any level interested in growing as comedic writers, performers, and humans! Taught by Chicago and NYC Veteran Jeff Q!
When and where
Location
The Coop Comedy 165 Avenue L Delray Beach, FL 33483
About this event
Improv Comedy Classes For Performance And Life is a class program for people of any level interested in growing as actors and humans. It is a Chicago style performance gym using improvisation as a base for students to work out skills for onstage and offstage use. We will focus on skills to improve confidence, conversation, focus, listening, social interactions, social dynamics, acting for comedy, acting for drama, and on camera. Whether you are a veteran of the stage or brand new these classes will benefit you! 
I appreciate your support in sharing with friends or tagging those you find could benefit from these classes. Thank you so much!
Weekly Improv Comedy Classes At The Coop Comedy at Tradition in Delray Beach!
How do our classes work?
Open to all skill levels! Classes can be joined at any time throughout the month. The classes are a gym for improv, theatre, leadership, confidence, Comedy, and social skills.
Come by any week to give it a shot.
When, Where, and What time do classes take place?
The Coop Comedy At Tradition
165 Avenue L
Delray Beach, Fl 
33483
Wednesdays (Beginner And Intermediate Level Classes)
Time: 7:00pm to 8:30pm
How does pricing work?
Students can pay by the class via cash, venmo, cashapp, or paypal
Pay Per Class: Suggested Donation of $20 Or Pay What You Can
Pay in advance to reserve your spot. The class may fill up.
Instructor Bio:
Jeff Quintana has been performing since 2003. He has trained and performed at some of the biggest comedy theaters including iO Chicago, The Magnet Theater, Upright Citizens Brigade Theatre NYC, The Peoples Improv Theater NYC, The Annoyance Theatre Chicago, Second City and more. Jeff has been an instructor for Annoyance Theatre, iO Theater, and the Playground Theatre in Chicago. He continues to work in Miami to create new and innovative theater through emotional vulnerability. Follow Your Fear and grow. He is the owner and Creative Director of Speak Easy Theater Co, JQ Comedy and Co Owner of The Coop Comedy.
"Jeff Quintana is a remarkable teacher. I know him to be insightful, caring and affirming. He is also a great and very funny improviser!"
- Mick Napier
Annoyance Theatre in Chicago
Author of Improvise: Scene From The Inside Out and Behind The Scenes: Improvising Longform
"Jeff Quintana was a performer and a manager at iO for approximately 6 years. It's hard to say exactly how long because I'm never sure if he really left. Whenever he visits, he's always on lights or on stage or coaching a group. That's because Jeff truly cares for this work and for the people involved. His attitude and personality are the epitome of what a good improviser needs to be. I urge anyone who reads this to support Jeff in his newest endeavor and I guarantee he will support you right back."
-Charna Halpern
iO Theater in Chicago
Co-Author of Truth In Comedy with Del Close
"I have known Jeff for years and I think what he is trying to bring to Miami and what he has to offer is worthwhile and valuable."
- TJ Jagodowski
Veteran Improviser of the show TJ and Dave
Co-Author of Improvisation At The Speed Of Life: The Tj And Dave Book
"Jeff is dedicated and passionate about improv. This plus his years of experience in Chicago makes him someone you will definitely want to work with."
- Jimmy Carrane host of the podcast Improv Nerd