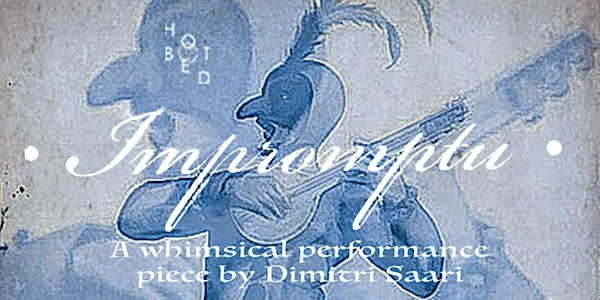 "Impromptu" - Interactive Theatre by Dimitri Saari
"Impromptu" is a whimsical performance piece by visual artist, puppeteer and art educator Dimitri Saari.
When and where
Location
HOT•BED 723 Chestnut Street #Floor 2 Philadelphia, PA 19106
Refund Policy
Contact the organizer to request a refund.
Eventbrite's fee is nonrefundable.
About this event
"Impromptu" is a whimsical performance piece by visual artist, puppeteer and art educator Dimitri Saari.
Inspired by Commedia dell'arte––a 16th century form of improvisational street theatre from Italy––and blended with his own unique and quirky sense of humor, Dimitri will wander throughout the gallery in character and engage with the audience and artworks of Hidden Threads, with his favorite childhood toys, puppets, and masks in tow.
Participants will leave the gallery with a small gift. This performance is family friendly.
Three 30 minute performances: 2 PM, 5 PM, 7 PM. Entry by donation.
(Oct. 16 is also The Jewelers' Row District's Fire & Ice event for Center City District's "Shop Center Saturday" )
About HOT•BED:
Established in 2017, HOT•BED is a gallery and creative lifestyle space in Philadelphia that unites art, horticulture, and design. Helmed by Creative Director, Bryan Hoffman, HOT•BED is a catalyst and a conduit for futures not yet realized. It's a gathering place, not unlike the Paris Salons of the Nineteenth century, where visitors and artists alike have the opportunity to collaborate, exhibit, and explore new ideas in a welcoming and judgment-free environment.
About Hidden Threads:
HOT•BED is pleased to present Hidden Threads, a group exhibition curated by Bryan Hoffman that explores the subconscious memories that inform our identities. As we navigate daily life, sensory stimuli may provoke unrelated recollections or emotions from the past.
The work in the show is inspired by these involuntary memories, also known as "mind-pops," which form the "hidden threads" that weave together our everyday experiences. Inspired by this idea, artists Katee Boyle, Carlos Alejandro, Alex Griffin, János Korodi, and Matt Nelson of N.E. Thing Productions are exhibiting works spanning painting, photography, videography/projection mapping, sculpture, installations, and works on paper. In addition to their individual pieces, Boyle, Alejandro, and Nelson have also contributed new collaborative projects created especially for this exhibition.