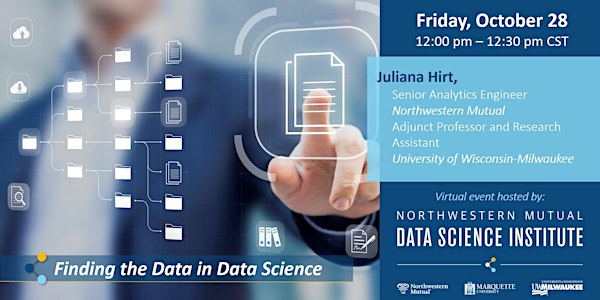 IMPACT Education Series: Finding the Data in Data Science
Join the Northwestern Mutual Data Science Institute for our monthly IMPACT Education Series.
About this event
With the emergence of data science and related training across the globe, education and degree programs set pace to exponentially expand in both quality and scope. Such opportunities draw significant attention from employers seeking to increase data and technology talent in their workforce. Embedded within the foundational attributes for such training, the data science curricula have traditionally focused on modeling tools and techniques, data quality, and the interpretation of results. While these core skills are highly valued prerequisites for budding data scientists and sought after among employers, information organization is also a critical attribute that warrants additional reflection and inclusion as part of any data science training. At present, information organization is often seen as a system or service that does not fall within the realm of responsibilities for data scientists. To ensure that our future cohorts of data scientists are prepared for the expansion of data topology, it is essential to provide them with key skills in organization and retrieval.
The Northwestern Mutual Data Science Institute welcomes Juliana Hirt to share her impressions and rationale as to the importance of early exposure to data organization and retrieval as part of a robust data science curriculum. In parallel, she discusses the value of building opportunities to expand data science techniques into emerging or existing information organization courses.
Juliana Hirt is a Senior Analytics Engineer at Northwestern Mutual. As an engineer, Juliana focuses on "value-add on ingestion" techniques and optimized retrieval of large data sets. Juliana is also a doctoral student, research assistant, and instructor at the University of Wisconsin-Milwaukee in the School of Information Studies. Her primary focus as an undergraduate instructor is information storage and retrieval. As a doctoral student, her work is focused on the applications of Natural Language Processing (NLP) to generate metadata for accelerated information retrieval of large data sets. Juliana received her B.S. in Mathematics and M.S in Information Science & Technology from the University of Wisconsin-Milwaukee.
Please note that this is a virtual event.