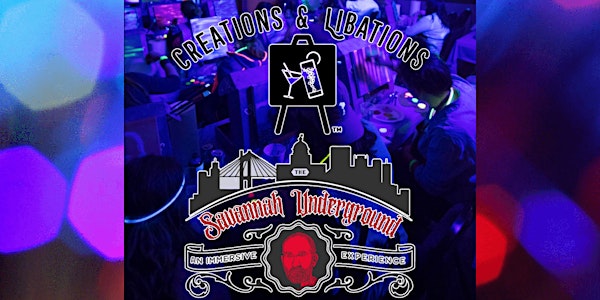 Immersive Haunted Paint & Sip
Attend Savannah's first immersive haunted paint and sip experience! Presented by The Savannah Underground & Creations and Libations.
When and where
Location
415 W Boundary St 415 West Boundary Street Savannah, GA 31401
About this event
A "Haunted" Black Light Paint Night?!?
Creations & Libations has collaborated with The Savannah Underground to create the very FIRST and ONLY fully immersive create & sip haunted attraction... with a twist.
Creations & Libations is a create & sip that is well known for painting and partying in the dark, and The Savannah Underground is well known for scaring the wits out of you with its fully immersive performance.
We saw a perfect opportunity to collaborate, and now we can't wait for you to experience it!
So, what is it exactly? It is a haunted attraction? Is it a sip and paint? Is it scary? Is it a show?
Well, the easy answer is yes, it's a little bit of everything. Creations & Libations is known for "breaking down the walls" of traditional wine and paints, and we were so happy to partner with The Savannah Underground, because let's face it, rent in downtown Savannah is not cheap. Let's just say that Creations & Libations got this space at a really great price... but some strange things have been happening during our move in. Lights have been known to flicker. Our speaker system has been turning itself on and off. There's even a very eerie feeling when you step foot in the adjacent room.
The Savannah Underground and Creations & Libations have a feeling that there may be some well known spirits from Savannah lingering. Now, it's your job to help us manifest those spirits through your creations, and see what it is that they need. Paint and party in the dark, but try to keep a watchful eye out, if you can.
Leave with your very own unique creation as your souvenir, that is, if you leave at all.
This is a perfect experience for both tourists and locals, and it will make for a bachelorette party experience that you'll never forget!
*Ages 13+ recommended with adult supervision.
*BYOB - unopened bottles only please.