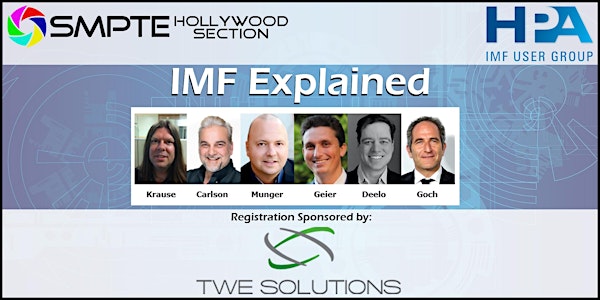 IMF Explained
SMPTE Hollywood and the IMF User Group will host a discussion on IMF's impact on content owners, service providers and technology developers
About this event
At its March virtual meeting SMPTE Hollywood with join with the Hollywood Professional Alliance's Interoperable Master Format (IMF) User Group (UG) for a close look at IMF and its impact on content owners, service providers and technology developers. A panel of experts will review the format's potential for standardizing digital content delivery and offer advice on best practices for implementing IMF across a range of processes and applications.
Speakers will include Walt Disney Studios Senior Mastering Systems Engineer Mike Krause who will review the genesis and development of IMF. Blackmagic Design's Shawn Carlson and Colorfront's Bruno Munger will describe the implementation of IMF from the perspectives of vendors, while Sony Pictures' Greg Geier and David Deelo will discuss IMF's impact on workflows at studios and other end-users. Barry Goch will moderate.
Panelists
Mike Krause, Senior Mastering Systems Engineer, Walt Disney Studios, is responsible for setting mastering specifications for features and streaming content (including Disney+). He also leads planning and implementation of IMF mastering workflows, systems testing and compliance. He served as chair of SMPTE's 10E-RGB drafting group and has been a key contributor to other groups and committees involved in standards development. He founded and chaired the Studio Technology HDR Task Force, which supported the sharing of HDR knowledge across the studio family. His background includes engineering roles with Deluxe and Technicolor Creative Services.
Shawn Carlson, Product Specialist, Blackmagic Design, has worked in creative editorial and conform for more than 22 years, producing and delivering content for indie and studio clients. As a product specialist with Blackmagic Design, he's helped customers develop new production and post workflows for DaVinci Resolve. Carlson has a background in editorial (creative/conform) and motion graphics, across a variety of NLE and FX platforms, delivering short films, show opens, producing spots, promos, trailers, sizzles and BTS featurettes for theatrical, broadcast, cable and home video release for indie and studio clients including Disney, Warner, Sony, NBC and Apple.
Bruno Munger, Director of Business Development, Colorfront, oversees sales, support and development for the company's award-winning on-set dailies and transcoding systems. A 30-year industry veteran, he has expertise in workflow design for file-based 2D/3D image capture, file-based delivery, VFX and digital intermediate color grading. He previously served as CTO and vice president at ALT Systems. His background also includes posts in product management, product design, business development and customer training at Digital Vision, Autodesk, MTI Films and Snell & Wilcox.
Greg Geier, Senior Vice President, Digital Media Supply Chain, Sony Pictures Entertainment, is responsible for developing the systems and workflows for the end to end Media Lifecyle. He played a critical role in transitioning Sony Pictures to a file-based Interoperable Master Format ecosystem, while strengthening the handoffs between productions and distribution.
David Deelo, Executive Director of Media Technology & Workflow, Technology Development at Sony Pictures Entertainment, where he is applying over 30 years of industry experience helping the studio develop next generation workflows with IMF as the foundation for the studio's asset management strategy. He previously served as chief technology officer at 2G Digital and as vice president, editing/compression technology, IT at Crest Digital. A graduate of Robert Morris University, he began his career as an editor working in advertising and sports media at Ryno Production.
Moderator
Barry Goch, Senior Editor, ColorTime, is an accomplished feature film and television finishing editor with credits including Spiderman: Homecoming, Passengers, Money Monster, Eye in the Sky and Game of Thrones. He is currently working on A Million Little Things (ABC) and a Netflix comedy special. Goch is a member of the Editorial Advisory Board and is West Coast Contributor for Post Perspective. He has written for Post Magazine and the Editors Guild Magazine. He also teaches post-production at UCLA Extension. He is a member of SMPTE, the Television Academy and the Visual Effects Society.
The panel is produced by Barry Goch and Linda Rosner.
As always, SMPTE Hollywood meetings are free and open to all, even non-members.
Sign up to be notified about future SMPTE Hollywood Events: