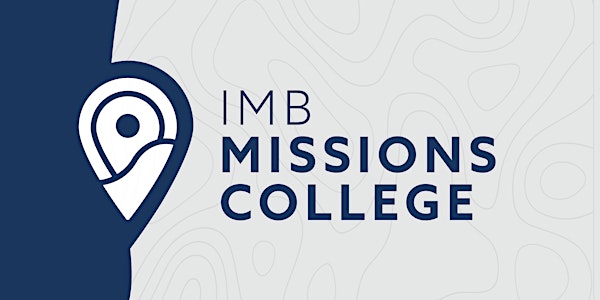 IMB Missions College
Training event for pastors, church leaders or members, and mission trip participants who are engaged in missions or interested in IMB teams.
By Gateway Seminary of the Southern Baptist Convention
Date and time
February 23 · 11am - February 25 · 5pm PST
Location
Gateway Seminary 3210 East Guasti Road Ontario, CA 91761
Refund Policy
Refunds up to 7 days before event
Eventbrite's fee is nonrefundable.
About this event
IMB Missions College 2023: California
IMB Missions College is a hands-on training event for pastors, church leaders, mission trip participants, and church members who are engaged in short-term, mid-term, and long-term missions or who are interested in partnering with IMB teams.
IMB missionaries will be there to help you gain the knowledge and practice the skills you need to effectively engage the lost in cross-cultural settings. The IMB Missions College program is designed to facilitate interaction and build relationships with IMB missionaries as well as other Southern Baptists who share a passion for missions.
Register today for IMB Missions College 2023: California, held on campus at Gateway Seminary!
Hotel Suggestions
Hotel d'Lins Ontario Airport
3400 Shelby St #4873, Ontario, CA 91764
(909) 466-9600
$141
Extended Stay America - Los Angeles - Ontario Airport
3990 Inland Empire Blvd, Ontario, CA 91764
(909) 944-8900
$121
Embassy Suites by Hilton Ontario Airport
3663 E Guasti Rd, Ontario, CA 91761
(909) 605-0281
$303
Schedule
Thursday, February 23
11:00 – 12:00 p.m. | Chapel with Paul Chitwood
12:00 – 1:30 p.m. | Lunch Q&A
1:30 – 3:00 p.m. | Corporate Prayer for Missions
3:00 – 3:30 p.m. | Break
3:30 – 5:00 p.m. | Mission Fair
5:00 – 6:30 p.m. | Supper
6:30 – 7:30 p.m. | Worship with Paul Chitwood
Friday, February 24
8:15 – 10:15 a.m. | Tracks
10:15 – 10:30 a.m. | Break
10:30 – 12:00 p.m. | Tracks
12:00 – 1:30 p.m. | Lunch
1:30 – 3:00 p.m. | Breakout A
3:00 – 3:30 p.m. | Break
3:30 – 5:00 p.m. | Tracks
5:00 – 6:30 p.m. | Supper
6:30 – 7:30 p.m. | Worship with Jeff Iorg
Saturday, February 25
8:15 – 10:15 a.m. | Tracks
10:15 – 10:30 a.m. | Break
10:30 – 12:00 p.m. | Breakout B
12:00 - 1:30 p.m. | Lunch
1:30 - 3:00 p.m. | Tracks
3:00 - 3:30 p.m. | Break
3:30 -5:00 p.m. | Worship with IMB Missionaries
Track Options* (choose one)
**FULL** Core Missionary Task (available in English (FULL) , Spanish, Korean, or Mandarin) - Members of mission teams will want to begin with this track. Experienced field missionaries will guide you in the basics of the missionary task: understanding culture, cross-cultural evangelism, discipleship, church planting, leadership development, and transition when the task is done. Practical topics and tools will be discussed, along with opportunities to apply learning to specific peoples and places.
**FULL** Cross-cultural Evangelism and Discipleship - The people we are trying to reach with the gospel have radically different perspectives on the world. Learn about worldview differences and the danger of syncretism to help you evangelize cross-culturally. Practice gospel presentations that can be adapted to different people groups, and that you can teach to others. Also, learn about short- and long-term discipleship needs and develop a plan for discipling believers in various contexts
**FULL** Foundations for Mission – In this track, pastors and other church leaders will use the IMB's Foundations as a guide for strengthening or guiding their church's missional focus in ways that glorify God, who is always on mission. We will partner to engage, inspire, and equip you with a biblical understanding of key concepts and principles that inform what we do globally and how the local church can be active in the missionary task locally.
Global Cities – How can your church be involved in the missionary task in a global city? In this track you will learn how to break down the complexity of the city in order to reach a specific population segment. This will include how to select a city segment, how to build relationships with national partners, and how to work through the missionary task. You will return home with a critical path plan to reach the masses of people living without hope in a global city.
Implementing the Great Commission Among Muslims - This track will provide proven, practical training for sharing the gospel with Muslims. Those implementing these approaches continue to experience evangelism and church planting breakthroughs world-wide. The track will include an overview of Islam, Any-3 evangelism training, answering Islamic Objections, and an effective method for follow-up.
**FULL** Strategy Coaching - In this track mission, team leaders will come together to discuss their strategies and experiences with each other and IMB personnel. As we review your strategies, we will talk through the challenges to implementation, such as leadership development, the appropriate use of influence, monetary support, cross-cultural communication, best practices on short-term trips, measuring what matters, when to end a partnership, and mobilizing your church to global missions.
Using Oral Methods for Discipleship and Leadership Development - Jesus taught his hearers using stories that reveal deep truths about God, humanity, and obedience. How can we equip a new church plant in a cross-cultural context to understand the Scriptures and teach them to others? Learn how orality can be used to maximize your mission strategy. Through interactive sessions, you will hear, see, and learn field-tested methods for discipleship and leadership development. Explore ways to effectively communicate God's Word to equip oral peoples to not only understand the Scriptures, but also to teach them to others.
Breakout Session Options (choose two)
Culturally-Appropriate Gospel Presentations – Practice specific evangelism methods adaptable to various cultures that you can use and teach to others. (Please don't select this breakout if you choose the Cross-cultural evangelism and discipleship track.)
**FULL** Digital Presence and Missions - How can we be digitally present where billions of people spend their time looking for answers that only the gospel can give? Open the "digital doors" to partner with IMB teams for cross-cultural evangelism and discipleship!
Discerning the Call - Explore a vital aspect of preparing for missionary service by dialoging about the "general call" for all believers and the "specific call" for missions service. Study the call of the apostle Paul and learn principles to apply to your own life. Discuss how to avoid pitfalls when considering the call of God on your life.
Going to the Nations with IMB – Learn about various pathways to serve with IMB for 2 to 3 years, and beyond. Get answers to your questions like: How does the local church send their called ones to serve? What is the process for applicants?
Introduction to Storying – Come learn how to share God's Story. Bible storying provides an interactive way to capture your audience's attention and to communicate the gospel to oral learners.
**FULL** Next Generation Missions - Dialog about involving high school students, college students, and young adults from your church to engage in cross cultural missions. Discover training resources, IMB pathways for service, and tips for challenging and training the young people of your church for missions service.
Partnering from the Backseat: Avoiding Dependency - Learn to partner with local believers in ways that equips them to own the missionary task while avoiding unhealthy dependencies on outside people and resources.
**FULL** Prayer Strategies – Get ideas about creative ways to develop and maintain a strong prayer emphasis for missions in your church. Also, hear about the importance of prayer for all mission work.
Short-term Trips – Explore how to effectively plan mission trips that are practical and culturally informed. Learn how to prepare team members personally, spiritually, and practically for a mission trip. Discuss best practices for working alongside missionaries and local believers for long-term impact, not only among the local people, but also for your church.
Strategic Short-term Healthcare Trips - Explore how your church can participate in transforming communities for the gospel by addressing physical needs. Learn what makes a short-term healthcare trip effective, what pitfalls to avoid, and the "nuts and bolts" preparation needed before you go.
*Which track should I choose?
If you are not currently in a long-term partnership with the IMB (committed to repeatedly going to a specific location overseas), Foundations for Mission is for you.
If you are in a long-term partnership, but this is your first Missions College, Core Missionary Task is the best starting place.
About the organizer
Gateway Seminary is a theological graduate school that educates men and women to take the Gospel to the nations. Known as one of the most multicultural seminaries in the world, Gateway Seminary's diversity enables it to equip and challenge students to more effective ministry leadership in the 21st century.