Description
A new edition of the ILNAS & ETSI Workshop will be held on June 28th 2019 at the Technoport in Belval. During this third edition, we will be honored to welcome again a delegation from the European Telecommunications Standards Institute (ETSI). The workshop will address the security, privacy and cybersecurity aspects of Smart ICT from the technical standardization point of view.
The first session will give an overview of Technical standardization & Smart Secure ICT in Luxembourg that will be followed by a particular focus on Education about Standardization, with the presentation of the common projects between ILNAS and the University of Luxembourg, as well as ETSI's education initiatives.
The second session, dedicated to Cybersecurity and related Technical Standardization developments, will begin with an introduction of the Luxembourg cybersecurity ecosystem. Afterwards, ETSI speakers will present their standardization developments for cybersecurity and relative research perspectives to improve security and privacy in Smart ICT (Artificial Intelligence, IoT, 5G and other related topics).
Please find below the detailed program: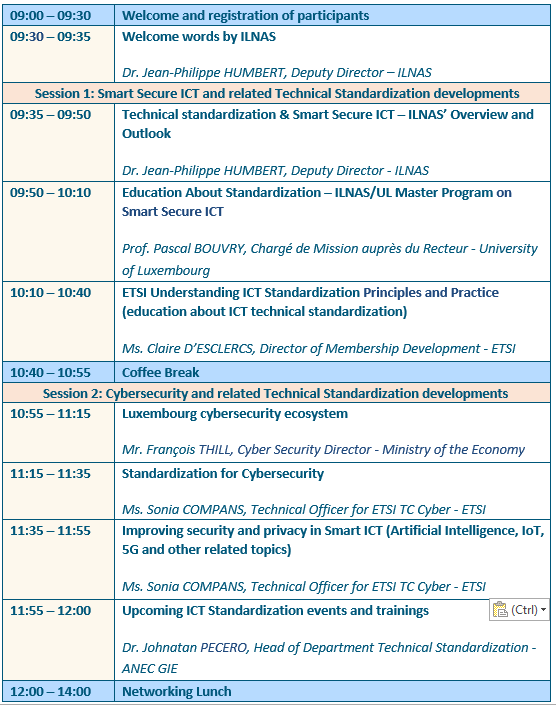 Deadline for registration: Wednesday 19 June 2019

The participation is free of charge but registration is mandatory for this exclusive event since places are limited. In case of participation cancellation or replacement of a registered person by another participant, please notify us in writing (by mail, fax or e-mail). Any cancellation not communicated less than 7 working days before the event may result in cancellation and administrative fees of 30.00 € per person.
>> Organizer contact
E-Mail : anec@ilnas.etat.lu - Tel : (+352) 247 743 - 70 - Fax : (+352) 247 943 – 70