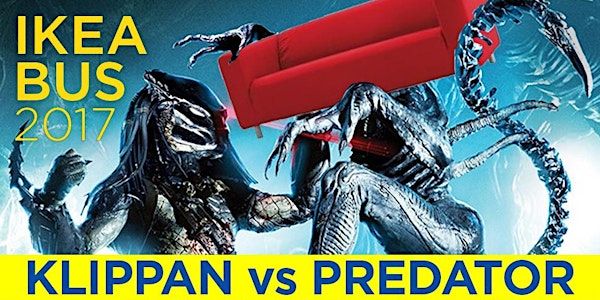 IKEA Bus 7- KLIPPAN vs. PREDATOR
When and where
Location
IKEA!!!- Leaving from VIP Charter Coach Marginal Way Park & Ride 265 Marginal Way Portland, ME 04101
Refund Policy
Contact the organizer to request a refund.
Description
The IKEA Bus has now officially lasted longer than any relationship I've ever had. I guess I don't have commitment issues after all!
Do you need to remodel your kitchen, toss out that couch your todder barfed on, or finally get that shiftless millenial out of the house and settled into a real grown-up apartment? IKEA BUS CAN HELP YOU.
Do you yearn for the right time and place to stock up on seaweed pearls and brain hats? IKEA BUS IS IT.
Or maybe, you just want to get your lazy buns out of the house and share the day with some great people who appreciate affordable Swedish minimalist furniture. Whatever the case... This is how we do it:
1. Buy a ticket (I'm sorry about the surcharge!) for yourself, your mom, your girlfriend, that hot guy who stood behind you in line at the post office... and then go home to make a shopping list while you wait.
2. On Saturday, May 13th, meet at the Marginal Way Park & Ride lot (located across the street from the World Gym) SLIGHTLY BEFORE 8 AM. The Ikea Bus will leave the lot promptly at 8, so don't be late!
3. We will then take a relaxing and enjoyable (seriously, check out this sweet ride) 2ish hour ride down to the IKEA in Stoughton, MA.
4. We will have roughly 5 hours (seems like a lot, but in IKEA time, it's like 15 mintues) to romp, browse, snack, shop, etc. We will meet back at the bus at bus at 3 pm (2:30 if you have purchased anything big that needs to get loaded into the truck that will be joining us) to head back to Portland. Barring major disaster, expect to be home between 5:30 & 6. Make sure that there's someone with a vehicle to pick you and your enormously heavy particle board furniture up, unless you will be using the Local Muscle delivery service (as detailed below).
SOME THINGS TO KNOW:
- There will be some snacks and beverages provided for the ride down & the ride back (TBD- suggestions welcome!), but feel free to bring your own as well. As long as you are of age, you can also totally BYOB.
- There will be in-flight movies (also TBD). That said, the sound will play over the bus sound system (no headphones), so it will likely be more background noise than anything. Let me know if you have any suggestions or requests.
- There is a bathroom. A bus bathroom, but still good.
- Because we will have the magical Local Muscle Movers on board again this year, you can get whatever the hell you want at IKEA. Bed, mattress, couch... Just make sure you can get it home. As with prior years, delivery within Portland proper is covered by the cost of your ticket (although, tipping is strongly encouraged). Cost for out of town deliveries (within 20 miles of Portland) will be negotiated on a per-case basis. You should email me in advance to iron out the details.
Or, if you just want to load up on cat curtains, there is also a lot of under-bus storage for smaller purchases.
I'm sure there will be lots of questions, and that's totally cool. You can email me or comment on over at the blog or Facebook.
p.s. I get this question every year, and I hate to say no to anyone... but, please no children under 5. It's a really long day for adults, and between the BYOB aspect and the not always G-Rated movies... I just don't think it's the best idea for there to be young kids on the bus. There is no children's ticket price, and if you do want to bring a child over the age of 5 (I think this is a great trip for ages 12 and up, but I'll let you decide), they will have to pay full price.