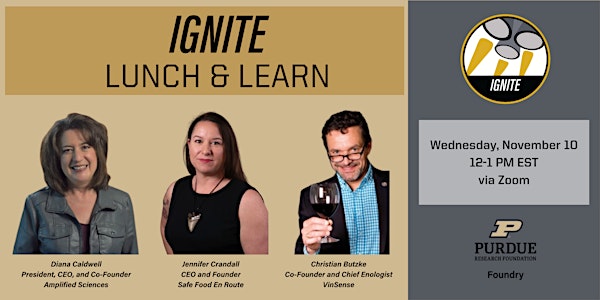 Ignite Lunch & Learn
Lunch & Learn for Ignite Participants
About this event
Bios of the Speakers
Diana T. Caldwell, President, CEO, and Co-Founder
Diana Caldwell is co-founder, President, and CEO of Amplified Sciences, an in-vitro diagnostics startup company dedicated to the early detection of debilitating disease with a lead assay in development for pancreatic cancer. She is an accomplished and recognized life science entrepreneur with over 25 years of experience in both large corporate and small entrepreneurial environments. Throughout her career, she has successfully driven organizational growth, developed and implemented strategic business plans, and directed successful teams. She is a serial life science entrepreneur dedicated to the acceleration of innovations improving patients' lives.
Jennifer Crandall, CEO and Founder
Jennifer Crandall founded Safe Food En Route, LLC in 2018, a food safety consulting firm that makes corporate level food safety programs accessible to small and medium sized companies. Jennifer is passionate about providing full solution, corporate-like food safety and quality programs to businesses that want to level up and works with her partner, ReposiTrak to help create an automated workflow around their food safety programs using software and automation to streamline and improve the process.
Dr. Christian Butzke, Co-Founder and Chief Enologist
Dr. Butzke is a professor of enology in the College of Agriculture's Department of Food Science, and Purdue's first Innovation & Entrepreneurship Fellow. He is the author of two books and dozens of scientific and popular publications on wine. He is co-founder and chief enologist of the Purdue-based start-up VinSense (www.vinsense.net), a software company that provides vineyard management decision-support through real-time, high-resolution functional soil maps, modeling of soil and climate effects on fruit composition and quality, and powerful Big Data analytics and visualization tools.
How to Join via Zoom:
https://bit.ly/IgniteLL10
Meeting ID: 826 9480 6494
Passcode: 902396