Description
IFP SCREEN FORWARD
Sponsored by

Presents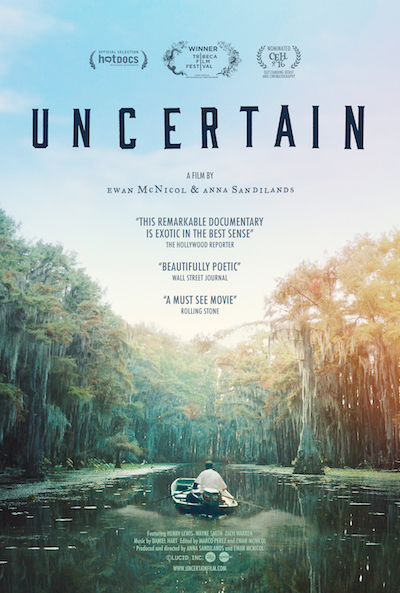 UNCERTAIN
Directed by Ewan McNicol and Anna Sandilands

Theatrical Premiere: March 9 - 15, 2017
presented in conjunction with The Museum of Modern Art
IFP Screen Forward and The Museum of Modern Art present the a weeklong run of Uncertain, a visually stunning and disarmingly funny portrait of the literal and figurative troubled waters of Uncertain, Texas. In a 94-resident town so tucked away "you've got to be lost to find it", three Uncertain men make their own bids for survival looking to find a more certain future.
"A hauntingly evocative portrait of its Southern Gothic-infused milieu....Uncertain marks an outstanding feature debut for its documentarians." - The Hollywood Reporter
SHOWTIMES
---
Thursday, March 9th
7pm
---
Friday, March 10th
7pm
Followed by Q&A with directors Ewan McNicol and Anna Sandilands
---
Saturday, March 11th
4pm
---
Sunday, March 12th
4pm
---
Monday, March 13th
7pm
---
Tuesday, March 14th
4pm
---

Wednesday, March 15th
4pm
This joint presentation of Uncertain by IFP's Screen Forward and the Museum of Modern Art is screening at both the Made in New York Media Center by IFP and at MoMA. For the screening schedule at MoMA click here.