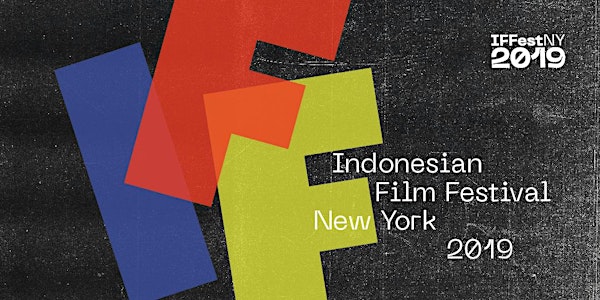 IFfestNY2019
The biggest annual Indonesian film event in the East Coast is back for its fourth installment.
When and where
Location
SVA Theatre, Beatrice 333 West 23rd Street New York, NY 10011
Refund Policy
Contact the organizer to request a refund.
Eventbrite's fee is nonrefundable.
About this event
Bringing New York the Best from Indonesian Filmmakers
In this year's Indonesian Film Festival New York, we present a selection of charming short films, moving documentary, delicious romantic comedy, compelling dramas, and pulsating action flick.
Aditya Ahmad brings two critically-acclaimed short films, Kado (A Gift) and Sepatu Baru (On Stopping the Rain). While the former elaborates on the subject of identities, the latter tells an expressive dialogue within spaces. How Far I'll Go by Ucu Agustin is a documentary that portrays a strong bond between two friends that forges a memorable coming-of-age journey. Topped with spices of romance and comedy, travel in a culinary journey throughout Indonesia in Aruna & Her Palate. In The Seen and Unseen (Sekala Niskala), magical realism forms an artistic bridge that connects twin siblings who are on the brink of losing one another. Turah is a tale of survival in an isolated village where domination and fear reigns supreme. Will hope become the light that shines on freedom? Last but not least, follow the mission of former marines to defeat a ruthless political leader in a full-throttle action flick Foxtrot Six.
Free up your weekend and enjoy the works of Indonesia's leading filmmakers!
Schedule
Friday, September 6, 2019 at 6.30 PM – Opening Night
A Gift (Kado, a short film by Aditya Ahmad, Indonesian and Makassarese with English subtitle, 15 Minutes) – Isfi can wear her comfortable pants among her guy friends but has to wear hijab to be accepted at Nita's house. Two days to Nita's Birthday, all Isfi wants is to prepare the best gift in Nita's room.
On Stoping the Rain (Sepatu Baru, a short film by Aditya Ahmad, Makassarese with English subtitle, 14 minutes) – A little girl living in a slum area is restless as the never-ending rain prevents her from wearing her brand-new shoes. Burned with the desire to try the new shoes, she is about to call upon the old traditional way to stop the unstoppable rain.
How Far I'll Go (Sejauh Kumelangkah, a short film by Ucu Agustin, Indonesiam with English subtitle, 34 minutes) – Two visually impaired childhood friends, Andrea and Salsabila, are now teenage girls, living with their blindness in two different countries— USA and Indonesia. They share the same idea of the future: to gain independence so they can prepare for a better life!
Friday, September 6, 2019 at 8.30 PM – Aruna & Her Palate
Aruna and Her Palate (A film by Edwin, Indonesian with English subtitle, 106 minutes, Drama/Romance/Culinary) – An Epidemiologist Aruna (Dian Sastrowardoyo) is sent to investigate the Avian Flu cases in different cities in Indonesia. At the same time, her best friends Bono (Nicholas Saputra) and Nad (Hannah Al Rashid) join her and go on a culinary adventure. Unexpectedly, the business trip reunites Aruna with her secret crush, Farish (Oka Antara), and soon four of them involved in intimate conversations. While investigating and relishing various dishes from different regions of Indonesia, they discover big secret behind the Avian Flu.
Saturday, September 7, 2019 at 12.30 PM – The Seen and Unseen (Sekala Niskala)
The Seen and Unseen (Sekala Niskala, a film by Kamila Andini, Indonesian and Balinese with English subtitle, 86 minutes, Fiction) – One day in a hospital room, Tantri (10 years old) realizes that she will not have a long time along with her twin brother, Tantra. Tantra's brain weakens and he starts to lose his senses one by one. Tantra is now spending most of his time lying in the hospital room while Tantri has to accept the reality that she has to face life alone. This situation opens up something in Tantri's mind. Tantri keeps waking up in the middle of the night from a dream and seeing Tantra. The night becomes their playground. Under the full moon Tantri dances; she dances about her home, about her feelings. As the moon is dimmed and replaced by the sun, so does Tantra and Tantri. Together, Tantri experiences a magical journey and emotional relationship through body expressions; between reality and imagination, losing and hope.
Saturday, September 7, 2019 at 2.30 PM – Turah
Turah (A film by Wicaksono Wisnu Legowo, Indonesian with English subtitle, 79 minutes, Drama) – The harsh competition of life has spared the defeated in Kampung Tirang. They are plagued by pessimism and overwhelmed with fear, especially towards Darso, the rich boss who has given them 'life'. Pakel, the sycophantic scholar in Darso's inner circle deviously makes the villagers mentally stunted. The situation makes it easier for him to reap more profits. Specks of optimism and hope to break free from the powerless life are present in Turah and Jadag. Incidents occur, encouraging Turah and Jadag to fight the acute fear and escape from the cunning narrative. This is every effort made by them, as the people of Kampung Tirang, to no longer be the human failure, the remnants.
Saturday, September 7, 2019 at 4.30 PM – Foxtrot Six
Foxtrot Six (A film by Randy Korompis, English language, 114 minutes, Drama/Sci-fi) – In the time of our children, escalating climate change is turning the world economy upside down. With crops dying and food price spiking, FOOD has replaced oil as the world's most valuable commodity. Among the very few lands still left fertile, Indonesia was quickly rising as one of the world-leading food-exporters and the next economic superpower, when its government was suddenly and ruthlessly overtaken by a popular rogue political party: PIRANAS. Under PIRANAS and their private Paramilitary's totalitarian rule, the country fell into depression, along with the rest of the world. Its people starve and live under constant suffering; desperate for a new age of hope and heroes.